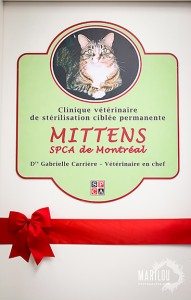 Montreal, March 27, 2015 – The Montreal SPCA announced its official grand opening of the Mittens-Montreal SPCA Targeted Permanent Sterilization Clinic. The chief veterinarian is Gabrielle Carrière. This clinic is a proactive initiative to tackle Quebec's pet overpopulation problem by offering sterilization services at reduced rates for pet guardians with limited financial resources.
Mr. Russell Copeman, Montreal City Councillor and the borough mayor for Côte-des-Neiges-Notre-Dame-de-Grace were present at the grand opening event.  This clinic was made possible thanks to a generous anonymous donor and was named after her beloved cat Mittens. The medical equipment was offered in memory of Fluffster, her other adored cat.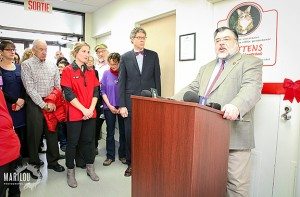 Mittens -Montreal SPCA will provide low-cost sterilization for cats and dogs and is intended for a target clientele, such as people with low income. Since the clinic offers sterilization, the first set of vaccines and a deworming treatment, are at the rates which are lower than those of a veterinary clinic or hospital. "Enabling pet guardians with limited resources to have access to sterilization is a critical step in controlling pet overpopulation in Quebec" said Dr. Gabrielle Carrière, chief veterinarian at the Montreal SPCA. "This clinic will certainly contribute to the enhancement of animal welfare in the province", she adds.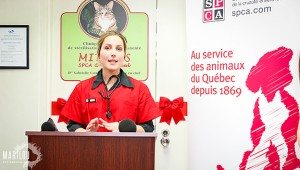 The clinic has been granted with all requisite authorization from the Ordre des médecins vétérinaires du Québec (Quebec Veterinary Medical Association).
Pictures by : Marilou Léger – Photographe animalière