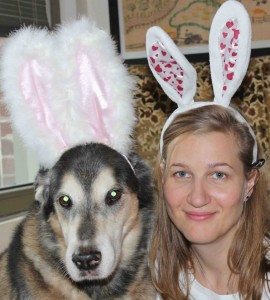 The #BeCrueltyFree Canada campaign is barely two years old, and the response so far is incredible. We've been working hard to raise awareness for the cruel, outdated cosmetics testing practices that rabbits, mice, rats, and guinea pigs endure every day – chemicals being forced down their throats, dripped into their eyes or smeared onto their skin – all without any pain relief and for the sake of items we can mostly live without.
This is the ugly secret of the beauty industry. And the time to end these shameful practices is now.
Yes, it still happens – everyday – even though it's not even required by Canadian law. Two years have passed since the European Union took action to become the world's largest cruelty-free cosmetics market along with Norway, Israel, India, the Brazilian state of Sao Paulo and New Zealand, while legislation has been introduced in the United States, Australia, South Korea, and Taiwan. Canada still hasn't followed in their footsteps.
We have, however, made a great deal of progress – citizens, celebrities, and corporations alike all want to see an end to cosmetics animal testing.
In fact, eight out of ten Canadians have said 'no' to cruel cosmetics in Canada and support is growing every day.
Emmanuelle Vaugier, Phoebe Dykstra, Kristin Bauer, Tricia Helfer, Laura Vandervoort, and most recently, Lauren Toyota are just a few celebrities who have spoken up to give animals a voice.
With a multitude of safe ingredients already on the market, as well as an alternative-testing list that is growing all the time, this horrible practice could stop today without any harm to anyone.
Next time you go shopping for your favorite cosmetics item, which can include anything from shampoo to lipstick and hand cream, take a moment to read the label to verify if it's been tested on animals – a good place to start is with the Leaping Bunny symbol. In fact, I bet that you won't even need to look for an alternative to the store you already frequent – there are that many cruelty-free options to choose from!
Every day we ask ourselves how one person can make a difference– voting with your dollar is the easiest way to affect change, which in turn provides you with absolute control. By only purchasing products that are not tested on animals, you are sending a strong message to companies that do. Imagine how strong that message would be if it were multiplied?
Speak up for animals, remember to shop with your dollar, because every single action counts.
Come on, Canada! It's time to #BeCrueltyFree!
Questions? Don't hesitate to ask!