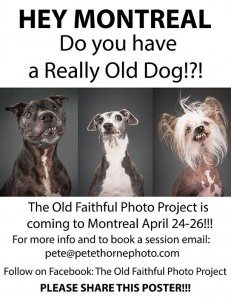 Photographer Pete Thorne is coming to Montreal to capture the beauty of our Senior Dogs. He calls it The Old Faithful Photo Project. He appreciates capturing the lumps and bumps, grey hair, chipped and missing teeth of our faithful companions. On April 25 and possibly the 26th, Pete will be in Montreal to make the wish of many Human Companions come true: holding time still and honor our best furfriends with a beautiful print.
So what is  The  Old Faithful Project? According to an article on OneGreenPlanet.org , it is a series of photographs that shows off the class, elegance, and grace of elderly dogs. In the last 4 months, his name and his pictures have gone viral on social media. The Huffington Post, Buzzfeed and BoredPanda have over thousands of  "Likes" on articles that include his work and in which the project is mentioned.
Pete wants to commemorate the dogs that have spent their lives next to us and acknowledge that the dogs that we know are more than just a dog.  If you would like to receive more information about The Old Faithful Project please send an email to Pete at pete@petethornephoto.com
I know I want my dear furbaby Nanners to be part of The Old Faithful Project. He turned 9 years old this year and was diagnosed with Cushing's Disease in late 2014. I just don't want to have snapshots from my cell phone or really fuzzy pictures from the "selfies" we try to capture. He is so special to me and I want for his greatness to be captured  by someone that sees and understands the love that we have for our senior furbabies.
We are only a few days away from the date! Please send your inquires to to Pete at pete@petethornephoto.com
Don't let this great opportunity pass you and your pup by…
Hope to see many of you there!
Check out the following video from CTV National News about The Old Faithful Project: http://toronto.ctvnews.ca/video?clipId=558152