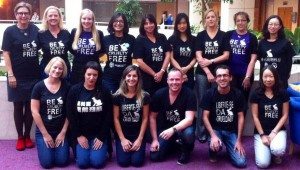 Just three short years ago, the #BeCrueltyFree campaign was born – the global largest undertaking ever to end cosmetics animal testing. Even though we've accumulated many successes, milestones and victories under our collective belts, we've still got a long way to go before we see an end to the animal cruelty that's still prevalent in the cosmetics industry today.
But, let's take a moment see how far we've come!
Australia: The 'End Cruel Cosmetics Bill' was introduced this past year!
Brazil: In 2014, cosmetics animal testing was banned in the state of Sao Paulo and later that year a nationwide bill was introduced!
China: In June 2014, officials announced that animal testing is no longer legally required for some domestically-produced cosmetics. (Animal testing undertaken in Chinese laboratories for foreign-imported cosmetics is still mandatory.)
European Union: The EU banned animal testing for cosmetics in 2009, and banned the sale of newly animal-tested cosmetics in 2013.
India: Banned animal testing of cosmetics, as well as the import of all newly animal-tested cosmetics, in 2014.
South Korea: Last March Congresswoman Moon Jeong-Lim launched a bill to ban the sale of newly animal-tested cosmetics where non-animal alternative tests are available and accepted in South Korea. This bill is a first step, but has a limited scope – equivalent to the EU policy in 2004.
New Zealand: Following intensive #BeCrueltyFree campaigning, the New Zealand government has agreed to ban animal testing of cosmetics by amending the Animal Welfare Act. This legislation cannot affect sales, so we'll continue campaigning to secure a marketing ban on animal-tested cosmetics.
Taiwan: This month the #BeCrultyFree Taiwan campaign joined Legislator Wang YuMin at the Parliament in Taipai to launch a bill to ban cosmetics animal testing and the sale of animal-tested cosmetics. The bill already has the support of 19 legislators, but we will need to work hard to ensure that the bill is passed into law.
USA: Last year, #BeCrueltyFree USA spearheaded lobbying efforts with federal legislators to introduce the Humane Cosmetics Act, which was endorsed by more than 140 cosmetics companies and stakeholders. This year we will be stepping up lobbying pressure to ensure that cosmetics cruelty is banned in the United States.
So while we celebrate our birthday and our accomplishments from the past few years, Canada is still lagging behind. Canadian law neither requires nor prohibits animal testing to demonstrate cosmetics safety – so sadly it will continue unabated… for now.
Last week was also World Week for Animals in Laboratories, which serves as a stark reminder that labs across the country are still filled with countless animals suffering for our lipstick and shampoo.
So come on, Canada – let's join the rest of the world and become the next country to #BeCrueltyFree!
Take action by signing the official petition: www.BeCrueltyFree.ca
Want to keep up with the campaign? Visit us at: www.facebook.com/HSIEndAnimalTesting and  www.hsi.org/becrueltyfree
Wondering what else you can do? Any questions? Just ask.