Animal lovers, Canadians, lend me your ear: I am thrilled to announce the launch of The Cruelty-Free Cosmetics Act to ban cosmetics animal testing!
On June 18, Senator Carolyn Stewart Olsen launched a Senate Bill to Ban Cosmetics Animal Testing and Trade in Canada. The introduction of the Senate Bill follows intensive #BeCrueltyFree Canada campaigning, during which time we've worked closely with government to protect animals from cosmetics cruelty.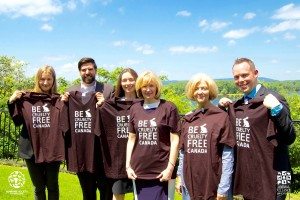 The team that made it happen! Aviva Vetter, Michael Bernard, Rebecca Aldworth, Laureen Harper, Senator Stewart Olsen, Troy Seidle / photo credit: Michael Bernard/HSI
We still have so much more to do, and we need your help!
Ask Canada's Parliament to vote to Be Cruelty-Free by signing and sharing 
It's taken a lot of hard work and pressure on the part of HSI and our supporters to get to this point – but we're not there yet. Eight out of ten Canadians want an end to cosmetics cruelty, and the Conservatives' commitment to ban cosmetics animal testing brings us one step closer to a world where no animal has to suffer for the sake of cosmetics.
In animal tests, rabbits, guinea pigs and mice endure considerable suffering. Cosmetic chemicals are dripped in their eyes, spread on their skin or force fed to them in lethal doses. Canadian law neither requires nor prohibits animal testing to demonstrate cosmetics safety, and so it is still legal to test cosmetics on animals within our borders and sell cosmetics that have been animal-tested abroad. An import/sales ban would prevent that, and a national test ban would also ensure that cosmetics animal testing can never return to Canada.
More than 75,000 people say "no" to cruel cosmetics in Canada – add your name by signing the #BeCrueltyFree Canada petition at BeCrueltyFree.ca.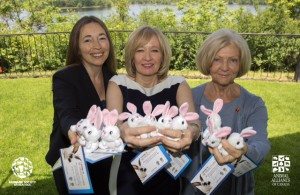 Rebecca Aldworth, Laureen Harper, Senator Stewart Olsen / photo credit: Michael Bernard/HSI
Facts:
Animal testing for cosmetics has been banned across the European Union, Norway, Israel, India and New Zealand, with similar measures currently under discussion in Australia, Brazil, South Korea, Taiwan and the United States under the leadership of #BeCrueltyFree campaign teams in these countries.
88% of Canadians agree that testing new cosmetics is not worth animal suffering, and 81% of Canadians support a national ban on animal testing of cosmetics and their ingredients, according to polling by the The Strategic Counsel of behalf of Animal Alliance and HSI.
More than 600 cosmetic companies are certified "cruelty-free" in North America, avoiding animal testing by relying on thousands of existing ingredients already established as safe, combined with available state-of-the-art non-animal test methods.