Mr. Grey – by Amanda Glew 
The other day I was asked why we have a rescue fund. I looked at the client, and said, "did you ever meet Nelson?"
This was before Mr. Grey showed up at the clinic. Nelson was our first big rescue case – a little funny-looking Chihuahua who was left tied to a bench in a park on a very hot day in 2013.  He needed a lot of medical attention, as well as a blood transfusion. He received his blood from a pitbull owned by one of our technicians, which I think is why he survived.  He has a pitbull's tough constitution!
But all of this costs money to do – medication, material, notwithstanding the time (which our vets and techs donate). This is why we collect loose change donated by clients – and put it towards our strays.  Every once in a while, we get a big case, and this "rescue fund" can justify the large cost in treating and saving a life.
So I introduce you to Mr. Grey. Of course, he is a grey cat – brought in by some children from a day camp, who found him hit by a car and unable to walk, by the side of the road in Pierrefonds. It is always difficult when you are brought an animal without an owner, and find yourself having to make tough decisions. Mr. Grey was in shock, had some obvious fractures, and was in pain. Do you treat him or put him out of his misery? Well, in this case, Dr. Mold the attending veterinarian decided to give him a chance.  She is also one of our best internal medicine veterinarians at the Timberlea Veterinary Clinic, so when I came in and she asked me if it was OK, I of course deferred to her.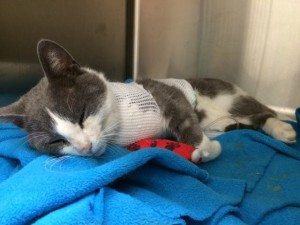 IV fluids, pain medications and x-rays later, we found a pelvic fracture. In my experience, as long as the nerves are intact, cage rest will heal these. So this is what we did. A week later, despite social media and lots of interest in Mr. Grey, no owner came forward. I am not surprised, as this 1 year old was not neutered.
When Mr. Grey finally stood and went to the litter box on his own, we were all exalted! This means his hind end hasn't been permanently damaged. So, with a little bit more of TLC, we expect a full recovery.
This is why we – and many clinics have – a rescue fund. It makes our world and some lucky animals world a little better….