Anterior Cruciate Ligament Surgery Repair
Tango is an 8 year old beagle, who is morbidly obese. At 45 pounds, he should weight 25. I have found  that at some point on yearly exams, I become redundant and almost nagging when harping about weight loss. In this case, Tango lives on a horse farm, and from a rescue situation, I often find that these dogs who were once starving often go to the other extreme. It is hard to keep a farm dog out of manure and dropped feed.
But then Tango ruptured his ACL. He came in not placing weight on his left leg, placing the remaining weight on his skinny little right hind leg.  So now, he needed surgery, but I explained to the owner that weight loss would be part of the procedure. If he doesn't lose his weight, the 2nd leg will surely go, and on top of that, his chances of success on his "broken" knee would be greatly reduced.
We discussed surgical options – there are basically two done today- the TPLO and the extracapsular repair. As I explain to owners, while practicing 26 years, I have seen over 10 "new" surgeries come and go for this condition. Which means, 1) Nothing works 100% –  and 2) There are no guarantees!
So how did we decide which surgery is best for Tango? Well, the expensive TPLO (about 4.2k) works well, but has a long recovery- the bone is broken and re-plated.  This procedure in my mind is best for younger dogs, large breed dogs, or very athletic dogs. Although the recovery is a little more severe, and if a complication occurs a little more complicated – but once healed, these dogs do very well. The extracapsular repair(ECR) runs around 1.2-1.5k, can be done by a few general practioners, and uses the premise of "remaking" a ligament on the outside of the joint, as opposed to the inside. Tightening the joint area and using a synthetic ligament (many available, I use fishing line – enough to catch a 60 or 80 pound salmon) and a much less aggressive procedure. It works well in 95 %  of animals, and for some, is all they can afford to do. The advantage of the ECR is recovery is much easier, and if for some reason it does not work, the TPLO can be done after.
In this case, we opted for the ECR. In addition to this, Tango was placed on Metabolic diet from Hills (I also like RD – reducing diet) and on top of this, I offered to do the rehab by boarding him at my house.
It has been an interesting experience for me as a vet to do the rehab on Tango. I am used to walking dogs off leash, so to limit his exercise with a leash was new for me.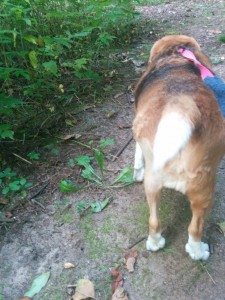 Daily massages, gentle Range of Motion helped to reduce swelling and increase circulation in the knee. By week three, he was starting to bear weight, but only when forced to walk slowly (which is a trial as well!). I did not want to weigh him at first, but gave him his diet religiously. We started to add on green beans, red peppers, tomato slices as treats.  It is a challenge for a client to get an animal to lose weight when exercise is so limited, and the dog has big brown eyes asking you for food. I can now relate. However, we persevered, and by week 4 I finally weighed him – and he was down by 3 pounds! Hardly noticeable in his rolls of fat, but encouraging nonetheless. We are on the right track!
I decided to do a little weekly diary following his progress, which we have posted on the Timberlea Vet Clinic web
and Facebook page. As the weeks and months go on, we will continue to give updates on Fat Tango's return to health. But for me, the experience was very rewarding. It gave me a new appreciation for the work I assume my clients must do.  As an aside, you can pay for physio rehab if you are not willing/able to do the exercises.