PetitsPawz Is Partnering With Uber!
This Thursday October 29th will be anything but business as usual and these UberKITTENS just want to get their paws in the door.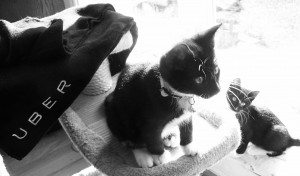 IN MONTREAL – PETITSPAWZ kittens will be making Uber visits to offices throughout the day. All kittens are very social and will be kept stress free at all times.
HOW IT WORKS:
Open your Uber app between 11 am & 3 pm.
   2. Request the "KITTENS" option in your app.
3. For $30, you and your colleagues will get to enjoy 15 minutes of kitten playtime. Uber will in turn help support PetitsPawz.
4. The best part? Kittens are eligible for adoption.
*If you're lucky enough to request kittens to your office, please make sure your boss or building is going to be cool with the meows and that no one in the area is allergic. Also, having a dedicated room for kitten playtime is preferred.
If you're smitten for a kitten or are looking for a new purr-sonal assistant just ask the PetitsPaws representative assisting with your kitten delivery. Uber has helped over 30 kittens find their forever homes through UberKITTENS and this year, they hope to find every eligible kitten a home!
Demand will be high as many will want to test the kitten's skills (they are excellent paper shredders), so your patience is appreciated. We'll do our best to deliver as many kitten cuddles as possible, but availability is limited! If you can't get a visit from #UberKITTENS today, visit the adoptable kittens in person at PetitsPaws and check out the pawty on social.