SANTA PAWZ ONLINE AUCTION – http://www.petitspawz3.myevent.com/3/auction.htm
December 2nd to December 9th. Bid from the comfort of your own home! It's easy and fun!!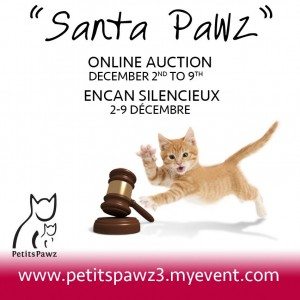 PetitsPawz Cat Refuge of Montreal is holding an online auction to raise funds for our cats in need. Please help PetitsPawz help more cats by participating in our "Santa Pawz" Online Auction Fundraiser, which will take place from December 2 to December 9th.
This is the perfect place to do some Christmas shopping. All items are brand new (unless vintage). We have some great items including jewelry, household items, restaurant gift certificates, autographed items and more. Bidding starts at approximately 25% of the retail price, so there are some great deals to be had!
Check in regularly! New items are being added everyday!  Please be sure to 'Like' our Featured Items Page, which will showcase the items and our donors.
https://www.facebook.com/Santa-Pawz-Online-Auction-Featured-Items-493856707449815/?notif_t=page_fan
By supporting PetitsPawz, you make it possible for us to help more animals throughout the year.
Auction Dates:
The auction page will be open for preview on Monday November 23. Items will be added up to Wednesday December 2rd. For previews of items, check in often!
Auction Opens – December 2nd at 8:00 am
Auction Closes – December 9 th at 8:00pm
Details on how to bid can be found on the Auction Site at http://www.petitspawz3.myevent.com/3/auction.htm.
About PetitsPawz
PetitsPawz is a registered non-profit organization dedicated to saving cats throughout the island of Montreal. A foster-based rescue, PetitsPawz is run entirely by devoted volunteers. It was created to provide shelter and medical care to stray, abandoned and abused cats, with the goal of finding caring adoptive families for them. We also operate a TNR program for feral cats.
Part of the proceeds from this fundraiser will go to pay for emergency dental surgery for Koopa.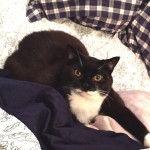 Koopa is a sweet gentle girl who has a recurring growth in her mouth. This has been removed but comes back and is caused by an immune deficiency in her teeth and gums. Once she has the needed surgery she will have a top quality life.
The remaining proceeds will be used for veterinary care of our new cats and kittens.
We encourage you to take a look at the items, make your bids and check often to watch your bid. Remember every dollar raised by the winning bidder goes directly to PetitsPawz' animals in need.
Help us to help make a difference!
Happy bidding!
QUESTIONS? Email us at smackasey@gmail.com. Visit our Website at www.petitspawz.net
'Santa Pawz' Encan Silencieux pour Le Refuge Pour Chat http://www.petitspawz3.myevent.com/3/auction.htm
PetitsPawz tient une vente aux enchères en ligne, "Santa Pawz" afin d'amasser des fonds pour nos chats dans le besoin. La vente aux enchères en ligne de PetitsPawz est, pour vous, une merveilleuse façon d'aider à la fois les animaux!
Dates de la tenue des enchères:
Des articles seront ajoutés à chaque jour jusqu'au le 2 decembre.. Pour ne rien manquer, venez régulièrement
Ouverture des Enchères – le 2 décembre à 9h00
Fin des Enchères – le 9 décembre à 20h00
La page va etre ouvert pour voir les items lundi le 23 novembre.
Visitez le site régulièrement. De nouveaux articles sont ajoutés tous les jours. Assurez-vous de "Like" notre page Articles Vedette, qui met en évidence les éléments et nos donateurs.
https://www.facebook.com/Santa-Pawz-Online-Auction-Featured-Items-493856707449815/?notif_t=page_fan
Des personnes se sont jointes à nous cette année afin d'offrir de très beaux articles pour la vente aux enchères. Il y aura quelque chose pour tout le monde!
Nous vous encourageons à jeter un coup d'œil aux articles, à faire vos offres, puis à consulter souvent vos enchères.
Souvenez-vous que chaque dollar rajouté à l'enchère gagnante va directement à PetitsPawz. Aidez-nous à faire la différence!
PetitsPawz
À la base PetitsPawz fonctionne avec les foyers d'accueil temporaires gérés entièrement par des volontaires dévoués. L'association a été conçue autour de trois objectifs:
Un refuge pour chats : fournir un abri et des soins médicaux aux chats errants, abandonnés ou maltraités, dans le but de leur trouver une famille d'adoption affectueuse.
CSR (Capturer, stériliser, relâche) : stériliser, vacciner et relâcher les chats sauvages dans leurs périmètres habituels. Ceci prévient la reproduction et la propagation des maladies. Les chats sauvages ont peu ou aucun contact avec l'humain et ne peuvent donc pas être domestiqués.
Éduquer : l'éducation joue un rôle central dans le changement. PetitsPawz fournit ressources et information aux proprietaries de chats sur les soins en général, l'importance de la stérilisation, des traitements vétérinaires et de la domestication intérieure.
Une partie des fonds de cette Encan ira à payer pour la chirurgie dentaire d'urgence pour Koopa.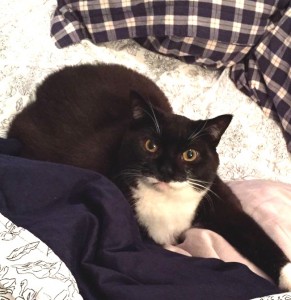 Koopa est une fille douce douce qui a une croissance récurrente dans sa bouche. Cela a été supprimé, mais revient et est causée par une déficience immunitaire dans ses dents et les gencives. Une fois qu'elle a la chirurgie nécessaire, elle aura une vie de qualité supérieure.
Les sommes seront utilisées pour les soins vétérinaires de nos nouveaux chats et chatons.
Nous vous encourageons à jeter un oeil à des articles, faire vos offres et vérifier souvent pour regarder votre enchère. Rappelez-vous chaque dollar recueilli par le soumissionnaire gagnant va directement aux animaux PetitsPawz «dans le besoin.
Aidez-nous à faire une différence.
QUESTIONS? smackasey@gmail.com – Site Web – www.petitspawz.net