Walkin' Wheels: Pay it Forward
We received a touching e-mail from some folks who recently had to say goodbye to their beloved dog.   Zack received his wheelchair via a donation from a family with a disabled dog.  Now, with Zack's passing and in the spirit of paying it forward, his family would like to donate it to another dog in need.  See below and share!  You never know who you could help!
____
One "Walkin' Wheels for Handicapped Pets".  Suitable for a large size dog.  Give your older, injured or disabled dog the great quality of life, exercise and fun that he or she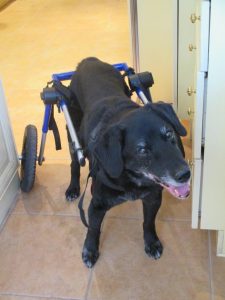 deserves. http://www.handicappedpets.com/
This device, which normally retails for $500, is available for loan on a strictly "pay it forward" basis. What this means is that if you love an older, injured or disabled dog who would benefit from this wheel chair, you may borrow it as long as the dog needs it. When the dog no longer requires Walkin' Wheels, we ask that you return it so that it may once again be posted on Montreal Dog Blog to be matched with another dog in need.  Keep a dog rolling on!