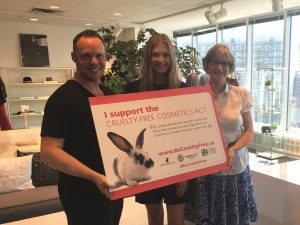 It feels like just yesterday I was thrown into the deep end of the pool, facing the daunting challenge of developing a national campaign to end cosmetics animal testing in Canada. It was… intimidating. But I was amazed at how quickly things came together, including the support of tens of thousands of Canadians who also want an end to cruelty for the sake of beauty.
Which is why I am tickled pink (get it? That's our campaign colour!) to share our latest victory – a monumental partnership!
This summer, shoppers at H&M locations across Canada will be seeing something new and very exciting. The brand, which already stocks fantastic cruelty-free cosmetics and all the latest fashions, has gone public in support of the #BeCrueltyFree campaign to end animal testing for cosmetics. More than 80 H&M stores from coast to coast will feature #BeCrueltyFree signage, including interactive stickers in the fitting rooms along with posters in the store encouraging customers to get political and show their support on social media.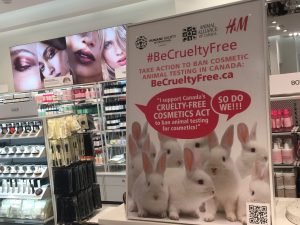 Socially-conscious companies like H&M are showing how sustainability and fashion can indeed go hand-in-hand; by making cruelty-free ethical cosmetic options available, affordable and attractive to as many people as possible, H&M is giving customers the greatest gift of all: a means to affect change through purchasing power.
A cruelty-free beauty industry is exactly the sort of "real change" Canadians want to see from Ottawa: 88 percent of those surveyed believe that animal testing "can cause pain and suffering to animals" and that "it is not worth causing this kind of suffering just to test the safety of cosmetics, especially when there are safe ingredients already available." More than 100,000 Canadians have signed the #BeCrueltyFree Canada petition in support of the Cruelty Free Cosmetics Act, along with dozens of cruelty-free beauty brands.
We could not do what we do without our corporate partners, who talk the talk AND walk the walk. With the support of industry and consumers, we can affect real change – including legislation.
The Cruelty Free Cosmetics Act was introduced in December 2015 and is currently under review in the Senate. Once enacted it would bring an end to cosmetic animal testing in Canada, both for products and ingredients, as well as ending the import and sale of cosmetics and ingredients that have been newly animal tested in other countries. This would place Canada on an equal footing with 34 (and counting!) progressive countries, including India, Israel and the European Union, which have already turned their backs on cosmetics cruelty. Similar legislation is pending in the United States, Brazil, Taiwan, Australia, Argentina and elsewhere under the leadership of #BeCrueltyFree campaign teams.
It's a victory for the campaign, but there's still a long way to go. And considering all the progress we've made is such a short span of time, I cannot wait to see where we're at two years from now… because I will never stop fighting for animals. Join me and let's make a difference today!
Show your support for the Cruelty-Free Cosmetics Act by visiting an H&M store near you to sign the petition and post a selfie on social media (hashtag: #BeCrueltyFree).