Lo and behold my very first blog article with Montreal Dog Blog!  I want to thank the team for inviting me to blog about the benefits of caring for animals professionally. I hope you will enjoy the topics. Feel free to comment and suggest so we can all learn from each other. I'm not a writer, but I love writing the way I speak. You will get to learn a lot about me, my passion and how I followed my dreams and the core values I maintain throughout my life with the animals under my wings. Some will be personal opinions and everyone is right by their own point of you.
I love discussions, keeping a positive outlook even if there is a difference of opinion always benefits one another. As for you – regular MDB followers – there are many professionals blogging about veterinary aspects and advice, training, grooming, even SPCA news and Rescue news, so lucky to have all this information right at our finger tips. Share and Like all the articles you find interesting!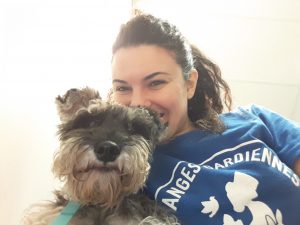 My experiences touches a bit on each, I will be writing about being a woman entrepreneur and the journey during 12 years owning a business, maintaining a balanced semi-sane lifestyle. In no particular order – just thoughts and sharing, hoping you can use my information to relate to.
A quick introduction about myself – I am a veterinary technician and nutritional advocate. Since I can remember I grew up with rabbits, turtles, birds, cats and goats (thanks to my family  in New Brunswick) When I was a teenager, animals lost or abandoned would always find me, living with my parents – they accepted pretty much any animal I brought home except dogs – I guess the big responsibility!  Strange, because they allowed me even worms and crickets. But when dogs would find me, I would have to hide them in closets or the bathtub, in my bed and hope no one would find them.   Animal lovers, I'm sure you too, have risked losing your home to be with the furry one you love – yes? no? It was a normal thing right? LOL. I soon realized without a roof  over my head or a job (12-15 years old)  I wouldn't be able to help much, so instead, I started rescuing on my own and started volunteering for shelters and veterinary clinics.
Breeding sugar gliders and volunteering at the Exotic Animal Hospital in Cote Saint Luc,  I found myself passionate about exotic animals and finally after spending a year in Florida's #1 pet store franchises I came back to Montreal dedicated to become a veterinary Technician. Those of you who know nurses know that the reason people become vet techs instead of a veterinarian is for one reason – they want to nurture animals, they want to comfort and ensure quality of life, plus I wasn't one to study for years. I loved being hands-on, preparing clean dishes for them to eat, clean blankets, cozy places to sleep, helping with prevention – dental, obesity.. thats my kind of thing.
Working at an emergency hospital, learned so much about the medical aspect and even more about myself. It helped me grow and that lead me to work for the government- Operation Raton, vaccinating racoons and skunks. Awesome time, I just wanted to love and squeeze them. After doing an internship at the Cardiology Institute of Montreal, I was able to gain the confidence required to follow my dreams 100%. Started with just myself walking dogs, pet sitting for cats, rabbits and many more animals, I used my knowledge to help care for pets and help pet parents confide in me so they can vacation with a peace of mind knowing their 'fur babies' are happy at home and getting the exercise they need when parents work full time.  It is such a great feeling knowing how much you're helping people and animals. Five years later – I made a huge business decision to trust other animal lovers to help me spread the love, the values and the quality pet care I've been providing for the past years. I had it in me – the need to help more animals, finding within myself to trust – I promised myself and until this day still find the best people to join our team of angels ensuring the best pet care and excellent customer service.
I want to continue blogging to share my experiences and opinions and to hear yours too! At MDB, we having many professionals writing articles – even for rescue and the SPCA news, all wanting to help pet owners and animal lovers like you.  That's why I am drawn towards them and our community, having an open heart towards animals and nature. I want to take you on some of the adventures of my company, Les Anges Gardiennes.
Hope you enjoy my blogs and keep coming back for more! Comments are always welcome – just remember to keep it positive and constructive! We are here to share our experiences and talk about pets to help each other grow by learning more about them to keep them safe, happy and loved!
Keep those tails a waggin'!
Vanessa Rose, Veterinary Technician
www.instagram.com/lesangesmtl/
www.linkedin.com/in/lesangesmtl