Yappy Howl'oween! – Terry Price Kimmel
Playing doggie dress up on a daily basis is not my thing. I have no interest in pretending my 10 lb Schnauzer, Mouse, is the little girl I always wanted. However, I do enjoy seeing pets decked out in Halloween garb and even Mouse must grin and bear a bee costume annually. I even hold contests on my Facebook pages for both cats and dogs and as you can see, I get a lot of responses. All of the photos throughout this post are entrants from  pet costume contests past.
Statistics show dressing up pets on October 31st is on the rise! Almost every retailer who carries kid's costumes, now has a section of costumes geared for the family dog or cat. Walk into your local pet store and I am willing to bet it's very much orange and black these days.
I have to admit though that I love the home made costumes the best. These are the people with the biggest imaginations, and ultimately best in show. Some outfits are very time consuming to put together while others not. Regardless, all can be tailored to your animal's character.
Need some ideas?
Cats
Cats are by nature not the easiest pets to want to play dress up and go along with your grand costume plans. A word of warning: you might want to wear gloves on your first fitting attempt, specially if you furry friend has claws.
A few ideas include making use of an old baby sweater – hoodies are fabulous if you have one! A pet or baby headband (the kind you see at the dollar store with antlers at Christmas) are also great. Your best bet is to work with the color you have. Got pink? Attach pieces of light pink on the headband in the shape of pig ears. Make a curly tail at the back of the sweater out of felt pipe cleaners. Next thing you know, your cat has been transformed into a piglet! Ta da!
Another option is a bunny rabbit. Slip a white sweater on your cat and use a headband to make simple little bunny ears.
Riley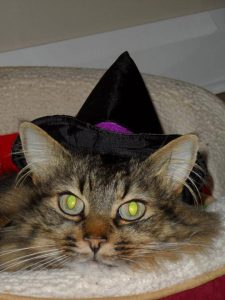 Belle
Dogs are far better than cats when it comes to dress-up. They will pretty much stand for anything that gets them attention…so dogs will tolerate most types of clothing.
My personal favorite contest entrant  was Sunny with a sheet over his head. I crack up every time I look at this photo. Simply take an old, white sheet, pillowcase, towel, or t-shirt and cut out eye and mouth holes.
An action hero pet costume is easy peasy to put together. Use a red towel as a Superman cape, or take a kids t-shirt and tape a letter or slogan on the back. Super dog!
If you're really creative, take an old pair of tights or leggings, a wig from the dollar store and voila! You have Gibson the Schnauzer who is now Gibson the punk rocker! This punk rocking dog is so legendary, he even has his own Facebook page !
Do up your dog as a pirate! All you need is a bandanna or scarf, clip-on hoop earrings, and a hat. Voila!
Have stuffed animals around the house? Check out their costumes. Some have easily removable clothing and hats.
Even if you don't want to take your dog out trick or treating, dress them up to answer the door and give kids a special treat 🙂
Or…if nothing else, dress them up for a fun photo contest !
Yappy Howl'oween!
TPK
"In rescuing animals, I lost my mind, but found my soul." ~anonymous