It's the most wonderful time of the year! MDB loves the holiday season because this is when our bloggers get to "Paw It Forward" and help rescues that mean a lot to us!
Where The Money Comes From
Our generous advertisers! The folks you see in the sidebar on the right hand side of this page – AND in the "Montreal Resources" drop down listings up top.  Thank you for your support!
 Paw It Foward 2016
For this year's Paw It Forward movement,  MDB is able to donate $4000 to rescues!  The money was divided among our 4 top bloggers this year.
They each have $1000 to gift to the charit(ies) of their choice.  Let's see who they chose this year and why…
_____________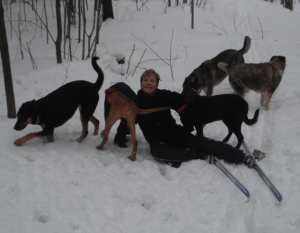 Dr. Amanda Glew:
 How can it be another year has passed!  Once again, I find myself with the dubious job of choosing which animal charities I would like to donate to. They all do wonderful work, but of course, the ones that touch you personally are the ones you feel need your help.
This year I would like to split my "paw it forward" to 3 groups- Le Nichoir, ($350) The Animal Protection Unit of Kahnawake ($300), and of course, Rosie Animal Adoption. ($350). Here are my reasons why:
I have been working with Le Nichoir for twenty years, in one way or another. I started the annual auction "for the birds", which has now become the "Taste of Hudson", I began the Flower for feathers fundraiser – giving joy to all around with monthly fresh flowers during the winter months, and for the last 4 years, I have spearheaded the Christmas tree fundraiser with my good friend Tracy.  So when the doors opened to the new center this year, I can tell you there were a few tears.  I am so proud to be a little part of this small charity that does so much.
The Animal Protection Unit of Kahnawake are another group that are developing healthy animal habits with education and a spay/neuter program. I am so proud of Deidra's dedication, and their new facility will be a pride to all.
Finally, of course, there is Rosie Animal Adoption. I am proud to be a part-time foster parent, and even more proud to be a foster failure. As I sit writing this, my new love of my life Porter is rolling around on my bed telling me to go for a walk. Rosies does a great job in getting animals a home, all with tireless volunteers and no facility. Amazing. Keep up the good work!
Wishing all very happy and healthy holidays, as well as winter….
amanda@montrealdogblog.com
_____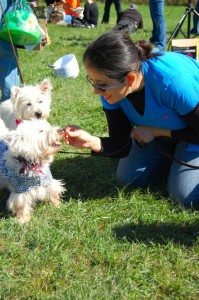 Liliana Danel:
What a wonderful Christmas will it be for so many rescues this year ♥
Thank you for the wonderful opportunity to be part of MDB. The team, the readers, the rescues that have followed the blog and our Facebook page have become my friends and I feel blessed to be surrounded by so many loving and caring individuals.
This year, I got the chance to know a new animal sanctuary.. Two of my close friends are volunteers at a sanctuary located in Sainte-Béatrix. This year, Virginie and Caroline introduced me to Centre Refuge Nymous.
Mr. Jacques Lessard is co-founder of the Refuge. I had the opportunity to talk to him and he shared a long list of the things that are vital for the sanctuary to continue doing their selfless work for the animals.
Therefore, I would like to give the $1,000 donation to Centre Refuge Nymous. I hope that this grant helps them get through this winter and helps them continue doing their noble work. I also wish for this blog spot to help people become aware of how wildlife animal sanctuaries are as just as important as our dedicated local animal rescue.  Please be sure to like the facebook page of Centre Refuge Nymous.
liliana@ montrealdogblog.com
___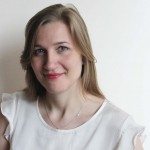 Aviva Vetter 
Thank you to the sponsors, readers and friends for your tireless support, and making the Paw It Forward Program possible. Without you we would not be able to shine a light on animal welfare issues, as well as recognize the many people who dedicate their lives to helping animals, both in Canada and all over the world.
These much-needed funds will be donated to the Be Cruelty-Free Canada Campaign.
The Be Cruelty-Free Canada campaign is very close to my heart; animal testing is the cause I have devoted my animal welfare career to. Before I embarked on this journey, I had no idea of the systematic and cruel torture that animals endure throughout their short lives at the hands of humans. In fact, many of us don't, simply because it goes on behind closed doors, making it easier for us to ignore.
The Be Cruelty-Free campaign, which aims to end animal testing for cosmetics around the world, is the largest of its kind in history.. In short, there is absolutely no need to continue this practice. The alternatives are there, from modern testing methods that don't rely on animals, to the thousands of safe ingredients which have already been proven effective.
This money will go directly toward ensuring that the recently-introduced Cruelty Free Cosmetics Act becomes law and that no more animals are tested on for any cosmetic products produced or sold in Canada. We have made some amazing progress over the last year. Just last week, the legislation moved one step closer to becoming law!
We work all over the world, and we get results – laws have been changed, animal tests replaced, and countless animals saved from these cruel conditions. And we couldn't do it without you.
aviva@montrealdogblog.com
__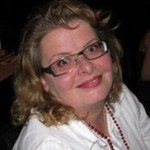 Meira Frankl 
I am incredibly honoured to be a part of the Montreal Dog Blog team, and our amazing Paw It Forward Campaign, that would never exist if it were not for our amazing advertisers.  Without them, we wouldn't be able to give so generously to so many dedicated, deserving rescues. So a huge thank you out to all of you! A big shout out to all our followers, readers and Facebook Friends as well!As some of you may know, this year has been a difficult one for me, with the passing of both of my dogs. Tikka in April, and my heartdog Bullet in August. Losing Tikka was very difficult, but with Bullet passing so soon after Tikka, I was beyond devastated. I didn't know how long it would take me to heal and be ready to get another dog. And then the city of Montreal came out with their new animal bylaws and the pit bull ban. I knew I had to adopt another pitty, and I had to do it quickly as dogs were being moved out of province, and dogs were being dumped.
I am so proud, with our advertisers help, to be able to donate my portion of funds, an amazing $1,000 to be split among two amazing shelters and rescue groups who were integral to brightening up my year, and who work tirelessly to help, rescue, and find new homes for so many deserving pets.
1. Kahnawake Animal Protection Services  $500
Enter Zephy and Lola. Two pit bull type dogs who were dumped in Kahnawke, left to roam and fend for themselves. Friends of mine had contacted me about the dumped dogs, as they knew I was looking for a pit bull type dog. So off I went, with my younger son in tow, to visit these dogs and possibly choose to adopt one. Both dogs were under the care of Kahnawake Animal Protection Services. We met both, and my son fell in love with one of them, who we adopted and named Zephy.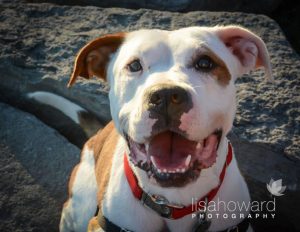 At the time, Kahnawake Animal Protection Services had only three kennels available to them, as their dilapidated building had been torn down, and they were waiting to have their new building constructed. Construction started last month, and should be ready in the New Year in January. Make sure to check out their progress on their Facebook page!
They also enforce the Kahnawake dog by law by ensuring stray animals are re-united with their owners and kept tied up or fenced in. They also provide advice to owners on management of their pets, and provide education on pet ownership and dog bite prevention within the community.
Another much needed service they provide, along with the help of Dr Amanda Glew  is a low cost spay and neuter clinic at Dr Glew's Timberlea Veterinary Clinic, which helps to control the population of unwanted animals on the reservation.
Deidra Whyte and her team have accomplished so much with so little, and I am so honoured to be able to donate $500 to them.
2. Frontier Animal Society $500
While we adopted Zephy, that left the other pit bull type dog, Lola, without an adopter. Deidra was desperately networking to find a a group who would be able to take Lola on. Time was critical, as both dogs had been there longer than their usual three day hold, and their deadline was that day, at noon.  Lola's guardian angel appeared in the form of one of the dedicated volunteers of the Frontier Animal Society, Caroline Kemp, who graciously agreed to house Lola at their shelter while awaiting transport to a rescue group in Nova Scotia. Lola stayed at the shelter for about three weeks until a volunteer was able to drive her out to Cool Dog Rescue , a group who stepped up to the plate to help pit bull type dogs who might have been facing euthanasia here in Montreal.
Frontier Animal Society is a non-profit organization and shelter located in Ogden, Quebec, about 90 minutes away from Montreal, and has been in operation for 30 years. They receive no financial aid, and rely solely on donations. With just two staff members, they also rely heavily on their amazing team of volunteers. They rescue and shelter cats and dogs, as well as work with feral cat populations and run a Barn Cat TNR program.  In addition to taking in local dogs, they also take on dogs from pounds of different cities, other rescues, and even take on Northern Dogs.
This year, they've adopted out 125 cats and kittens and 53 dogs, including some very deserving seniors. Additionally, 11 feral barn cats were trapped, sterilized and
returned—an important initiative that they're planning to expand in the coming year.
Unlike many rescues, they don't have a written adoption application but instead interview (talk) to potential adopters to determine if they are a good match. They really don't make it complicated and they appreciate that adopting a pet is an emotional investment. They work hard to ensure the right match, which usually means that the adopted animal doesn't return to the shelter system, but finds his or her true forever home.
I am honored to donate $500 to them, so they can continue their amazing work.
Again, my heartfelt thanks to you, our advertisers, our readers, our followers and our Facebook Family.
Happy Pawlidays!
Meira
meira@perfectpettraining.ca
meira@montrealdogblog.com