What Comes Around – Dr. Amanda Glew
It has been a year since my first mentor Dr. Floyd approached me on behalf of his wife, to use our clinic when needed while doing house calls. Dr. Floyd was an owner of the infamous Baker Animal Hospital for over 40 years, and that day ended up being a great opportunity for us all at the Timberlea Veterinary Clinic. I simply asked him "Would you like to work for us?" and he said sure.
I then told/warned my partner Dr. Isabelle Cote that I had hired him, reassuring her with the following comment "Don't worry, he taught me everything I know as a vet!" I did not realize that this was not necessarily a reassurance, as I am known to have a very strong personality, which is not necessarily easy to deal with. In her mind, another Dr. Glew might not be so easy to swallow.
But let us return to the summer of 1986 – two years before I graduated from vet school. A very nervous vet student (me!) approached the BAH for a job – and I was interviewed by a very kind and generous Dr. Floyd, who for some reason decided to hire an inexperienced and pretty useless student. That summer I learned how to be a technician, which has helped me throughout my veterinary career.  I am more understanding of the difficulties technicians face, and I am also very skilled in doing procedures that technician excel at. I also developed some good friendships at the clinic.
Fast forward 2 years – I had just graduated and I was working in a mixed animal practice in the Eastern Townships.  I was discouraged. I called my colleague and friend Dr. Laett who was working at Bakers, telling her that I was going back to do "pathology" because "dead animals don't have clients attached to them".  She said I should consider taking over her position at Bakers because she was leaving. Although only part-time, I moved back to Montreal, and got part-time work at other clinics. But it was under the tutelage of Dr. Floyd that I really learned the "art" of being a veterinarian", and the passion. I learned humility, skill and empathy. If people think that I am a good vet today, it is because of the early tutelage of this wonderful man. I also learned the importance of being mentored.  You think you know it all when you have graduated, but you need an older and more experienced vet to help you deal with the difficulties of day to day practice.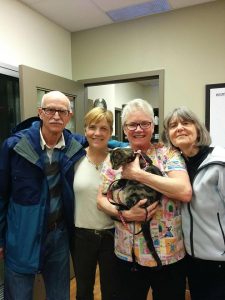 Dr. Floyd and his wife Susan (also a vet) came to my wedding in 1989. It was at this time that I started to teach at Vanier college. I continued to work during my pregnancy, and after working November 17, I called him to say my waters had broken, and I didn't think I could to work on the Monday the 19th. His reply was something to the effect of "oh, these things happen!" Tristan was born on November 18. I was back at work November 25th. I continued at Bakers until the following spring, when we decided we wanted to be closer to my parents. It was then I was hired by the Hudson Veterinary Hospital, but I always remember my first years at Bakers as my formative years, and would be forever thankful.
So it was with great pleasure and pride that my early mentor thought highly enough of me and our burgeoning clinic that he wanted to be a part of it.
When he started to work with us, all of our staff quickly appreciated his quiet demeanour, his calm manner and his expertise. There is something to be said about experience- few clients question his authority in recommending procedures (a little relief after having trained new vets for so many years).
Most importantly, after a month or so, I heard surreptitiously than my partner was relieved. When questioned, she laughed "Well, when you said he trained you, I thought I would have another Type A opinionated vet to deal with. He is not like you at all!" I am not sure if I should be upset or laugh. I chose to laugh.
As we are about to hire a new graduated this summer, I will remember all of those past years, and hopefully be the best mentor so that in 30 years, she will feel the same about me. What comes around, goes around.