Congratulations! You've just adopted or bought a new dog, or have gotten yourself a new puppy! Maybe you have a dog who needs to learn some basic manners, or perhaps you have a dog with some behavioral issues that you need some help with. Your dog might pull on leash, jump up while greeting, resource guards their food, or is leash reactive. Perhaps you want to enjoy some sporting activities with your dog, agility, flyball, nosework/scent detection, dock diving, treiball, among a few. Either way, you may be finding that you need some help from a dog trainer.
But when you try to find a trainer to help you, you are flooded with recommendations, names and titles. Which one is best for your needs? What type of trainer are they? Are they able to help you? Are they qualified?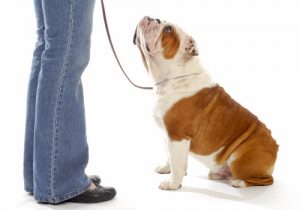 This is where things can become murky. And this is because dog training is an unregulated industry. Anyone can call themselves a dog trainer. If someone knows how to build a website, has some great pictures, and knows a few good keywords, they can market themselves as a trainer. They may have read a few books, or watched some TV shows. They may have attended a two month course, they may have attended a year long course. They may have learned from another dog trainer, or they may have grown up with dogs their whole lives, or they've volunteered at shelters, and may have been dog walkers. They may, or may not have had to pass an exam to become a dog trainer.
Dog training seems to be a very popular profession today. There are many more dog trainers today than there were 15 or 20 years ago. This doesn't mean that all dog trainers are created equal though. How long someone has been a trainer isn't enough, unfortunately, if you want the best for you and your dog.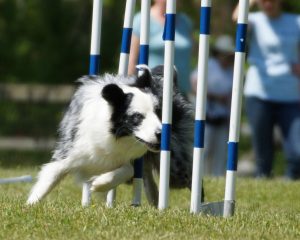 Finding good dog sporting schools are easier than finding good one on one trainers. Training schools are easier to research, and to visit, to see if you like their styles and facilities. If the dogs and their owners look happy, it makes it easier to decide. Puppy classes can be found easily as well, as they're often given at training schools, but again, not all puppy classes are created equal either. You need to do your research.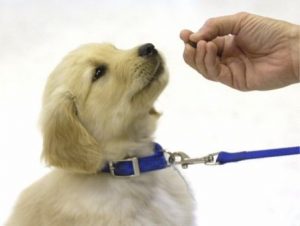 I recommend puppy classes that give puppies a lot of choice, rather than making puppy do or endure certain things. I also recommend classes that have timed off leash time. I definitely recommend puppy classes that teach enrichment as well.
If you need a one on one trainer, I suggest deciding what type of trainer suits your needs, and the style that you feel most comfortable with. Seeing as I am a positive reinforcement (R+) trainer, I would recommend finding an R+ trainer, but if that style doesn't fit well with you, there are other trainers who use other methods. They key is to research whoever you are interested in hiring. You need to interview them just as you would when you'd hire anyone for any job.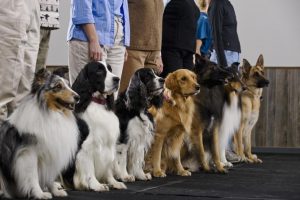 Dog Trainer Titles and Accreditation
Once you decide on the type of training that would fit you best, you'll have to wade through the variety of titles dog trainers market themselves as. There are titles that require degrees, such as a Veterinary Behaviorist, or an Animal Behaviorist. Both require a PhD. Animal Behaviorists usually prefer working with large exotic animals though, and often work in zoos or marine aquariums. There have been a lot of 'behaviorists' popping up lately, and I can't help but wonder where they've all gotten their degrees.
You'll also find a lot of dog trainers, Head Dog Trainers, Master Dog Trainers, behavior consultants, and dog psychologists. There are also Positive Reinforcement Trainers, Purely Positive Trainers, Force Free Trainers, Balanced Trainers and Compulsion Trainers. Head Dog Trainers are often trainers who own a training school, Master Dog Trainers are trainers who've taught other trainers (though they haven't necessarily had any formal education, nor have they all learned from someone else). Behavior Consultants are just that, and they may or may not have any formal education. Dog Psychologists are a self appointed term, as there aren't any formal degrees in dog psychology. Positive Reinforcement Trainers are trainers who use two of the four quadrants of learning, being positive reinforcement (R+) along with negative punishment (P-). Force Free Trainers are usually also positive reinforcement trainers, who use no force when training. Purely Positive Trainers usually only use R+ when training. Balanced Trainers often use a mix of positive reinforcement training along with corrections (positive punishment, P+). Compulsion Trainers often use corrections, with very little positive reinforcement.
All the terms that trainers attribute to themselves that I mentioned above don't always mean that the trainer actually trains with these methods. There are a number of trainers who claim to train a certain way, but actually employ different methods. This is where your research and your interview of trainers is important.
You may also find trainers with accreditation, or letters that follow their names. You will also find some trainers that belong to certain associations. For ones that have letters following their name, this usually indicates a formal education that require a high passing grade, as well as hands on assements. Trainers who are associated with the CCPDT association have to pass an exam, where they then become KA (Knowledge Assessed). Training schools, such as the Academy for Dog Trainers, the Karen Pryor Academy, the IMDT and Animal Behavior College also have written exams with high passing grade requirements.
Some associations just require payment to become a member, such as the Canadian Association of Professional Pet Dog Trainers (CAPPTD), while others require payment along with letters of recommendation and endorsement from other canine professionals (such as vets) as well as verification of methods used. Some, such as the Pet Professional Guild (PPG) are in the process of creating qualification exams.
Applied Animal Behaviorists are certified through the Animal Behavior Society (ABS), and they require a post graduate level in education (of which they are a variety). Associate Certified Applied Animal Behaviorists or ACAAB require a Masters degree. Those with a PhD may be certified at the full level, Certified Applied Animal Behaviorist (CAAB). Another excellent certification that has strict requirements as well as prerequisites is the International Association of Animal Behavior Consultants (IAABC).
Choosing Your Trainer
When it comes time to choose your trainer, the more education the person has, the more qualified they'll probably be. This can be through formal education, as well as attended seminars, workshops and webinars, as well as books written by the most esteemed and educated in the field. The best dog trainers never stop learning. You also do need to be mindful of experience as well, as theory alone doesn't make a good trainer.
You'll also want to ask people for recommendations. Ask well mannered dog's owners where they had training, if any. Ask your friends about their experiences. If you have specific types of training in mind, ask about those specific skills in a trainer. Ask for recommendations from other pet professionals, your groomer, your vet, the shelter where you adopted your pet from. Good dog trainers usually have professional relationships with others pet professionals, and most work with a variety of veterinarians and Veterinary Behaviorists.
Now that you've finally narrowed your search down to a few trainers, it's time to interview them. If it's a training school, ask if you can come by and watch a class. Most are very happy to have you drop in and watch.
The best dog trainers also have great people skills, are easy to approach and talk to, and are eager to answer any questions you may have. You should feel comfortable with the trainer as well.
When calling or emailing a trainer, there a few questions that I recommend asking.
– How long have they been a dog trainer.
– What type, if any, education do they have.
– Are they certified by a dog training school.
– Are they still expanding on their education.
– Do they belong to any professional organizations.
– Ask about specific experience regarding the issues you need help with.
– Ask if they have any referrals from local veterinarians or Veterinary Behaviorists.
– Do they work in conjunction with a certain veterinary or Veterinary Behaviorist.
– Do they recommend cases to other colleagues.
– Ask what types of methods they use.
– Ask what type of tools they use.
– Do they recommend certain types of tools for training, will they use whatever tools owners use, or prefer others.
– Ask what do they do when the dog gets it right. (Most will say they reward in some way.) Ask what they do when the dog doesn't get it right. (This is a very telling reply.)
– Are they knowledgeable in Canine Learning Theory, and can they explain which quadrants they use.
– Do they guarantee their work.
– Do different dogs need different types of training. (They don't. All animals learn the same way, be they dogs, horses, elephants, sharks or butterflies, though they may require different positive alternatives, or different motivators.)
– Do they sell blocks of sessions, or is it pay as you go.
– Do they provide support outside of training sessions.
All of the answers to these questions will help you determine what type of trainer each trainer is, as well as the methods used, as well as better helping you determine who is most qualified to help you and your dog. If you research enough, you'll find the best qualified professional, one that you feel good about.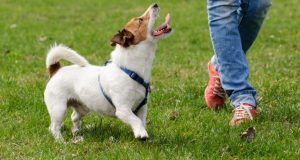 If you have any questions at all, please feel free to contact me.
Good luck and Happy Training!
Meira Frankl