I realize that even though he is older, Bailey is still a "ham" and does not really like being left out of anything.  I bought these Disney ears in Disneyworld a few years ago and was taking some pics of the little ones, when Bailey wanted in on the action!  He actually came and nudged my arm and wanted to play. 
 I miss that time with Bailey…he used to take pics with buuny ears, santa hats, elf charms, birthday boy outfits, pumpkins, New Year's favors, baseball hats, glasses, and many more.  He definitely got into St. Patty's day just as I.  For the most part, he avoids any of that now but yesterday, for some reason, he wanted to play and I could not wait to put on the Disney ears…I realize even though he is older, he is handsome and cute as ever!  Being part Border-Collie, he has personality and I now know it's not lost..just more on Bailey time.  It has really made me think how things have changed.  It used to be that Bailey was on our schedule but now life evolves around his schedule and MOOD.  He has his good days and his not so good days. 
He no longer likes Santa, the Easter Bunny or Mr. Pumpkin.    All I know, is when those good days come along, and he wants to play, I am happy to oblige.  In many ways, he is still my baby boy who used to pose so willingly for the camera, sit on Santa's knee, walk in the St. Patty's Day parade and  pose as soon as a camera was in sight! So,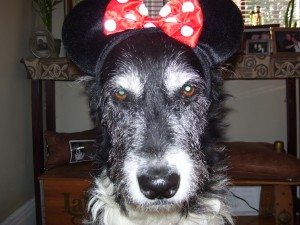 I was very happy to get the go-ahead for Mickey!