Hey Montreal Dog Blog readers! What's new? Hope everyone managed our winter with happy tails!
I always get stoked about summer because who doesn't miss green and warm sunny days? It's the perfect weather to get out and enjoy our beautiful city.  And it just so happens I have a new review to drop on some lovely collars that make stepping out in some sun that much more lovely!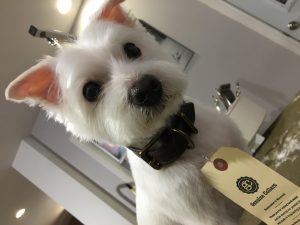 Product: I spent a month with a collar from Montreal-based Genuine Collars  –  and these collars are handcrafted with exquisite and real leather.
Pros: The overall craftsmanship and design is a product of care.
Stitching is tight and consistent. Hardware solid. Durability of these collars is in how the leather wears and these collars wear beautifully.

Elegant and strong, Genuine Collars look expensive and feel luxurious.
Cons: Not a one.
Price: Starting at 19$ for cat collars ranging up to 69$ for dog collars.
Overall: Genuine Collars (and leashes) come in a variety of styles for both cats and dogs to match the uniqueness of our pets with the craftsmanship to last a long and unique lifetime in elegance.