I live and breathe animals.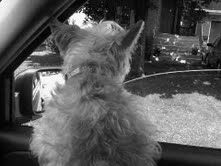 I am involved in animal rescue in Montreal, Que and wish  every day I could do more. Especially for those in puppy mills.
One of my own rescue dogs Mouse, is featured here with the wind blowing in her face ..
And Mouse for sure is a barker. At something, at everything, at nothing.
I can speak from the heart about pets. I have three rescued Rosie dogs , just lost a 19 year old cat , and have fostered too many to count.
I would like to tell you about Montrealers who care, really care about animals.
I would like to tell you about how I see things.
So I think I would like to base my blog on this:
Barking about something, someone, or not much at all.
Pretty much like Mouse.
TPK
‎"In rescuing animals, I lost my mind, but found my soul." ~anonymous