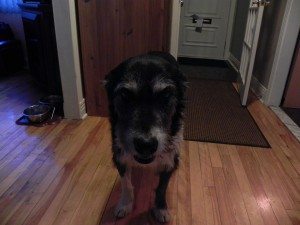 Last year, Bailey escaped on the 17th of December. The Oilman had left the gate open about a foot..that was all Bailey really needed!  It was the coldest day of the year or at least it seemed that way.  My husband and I put on our boots, coats, mittens and trudged through the snowy streets of Pointe Claire.  He did not have his ID on because my husband had simply let him out for his regular nightly pee and did not see the need to slip his collar on because we have a fenced yard.
We called and emailed everyone (rescues, the city, SPCA (they have the contract with Pointe Claire), Nat Lauzon, Yazoo (the local pet shop) and made posters..it was one heck of a night!  I did not know, at the time, that there is actually a number, 311 in fact, that you can call to get information on local pounds, etc.  It takes you directly to the City of Montreal so you can get the vital information you may need.
It ended up that a local Pointe Claire Security guard picked Bailey up and even brought him to the SPCA Montreal.  According to when he actually got there, it seems he had not been out running around that long! By 11am the next morning, we had our Bailey back…when I saw him at the SPCA- in the second last cage- all I can say, is that we felt immediate RELIEF!  However, I would say that none of us really recovered from the incident for more than a week.
Before we left the SPCA, we decided to get Bailey micro-chipped. If you ask yourself the question, "should I get my dog/ cat micro-chipped?  The answer is YES!  For approximately $35.00 (prices vary but still very reasonable) you will have a lifelong device; painless to insert, but a beeping sound that could be the one thing that could reunite you with your beloved lost pet.  The SPCA attendant explained to us all about the microchip and how it worked, and in the end we both felt very comfortable making this decision. 
It is a very easy process and once a micro-chip is inserted, all you have to do is ensure that your contact information and pet profile is kept updated.  It is registered on the Petlog database and managed by the Kennel Club.  Petlog can be accessed 24/7 for registration updates and edits. You can ask you local SPCA or veterinarian about micro-chipping your pet.  
Green living is about simplifying your life. Microchipping your pets could end up saving you time, energy and alot of unnecessary stress.  There is also a true sense of peace of mind knowing that none of us will have to relysolely on posters and people..a realy small % of reunions are made this way. 
Do your research, talk to your vet and get the answers to all of your questions/ concerns.  The majority of lost animals are not found by owners roaming the streets.  Dogs move very fast and can easily move out of the vicinity very quickly..like Bailey, the Bordercollie! Just in Pointe Claire alone, there are posters / fliers at the train station, in Yazoo, on the street light poles and up on the announcement board at the Pointe Claire Plaza…It seems very clear to me that there is a much greater chance of pets getting lost than getting side effects from a micro-chip (often a big concern to owners).
 I see Micro-chipping like one of those things you do not need until you need it- and then you wish you had!
And on a side note-do not forget to wear a collar and updated tags on your pets at all times.