With so many animals for adoption in Montreal alone, there is a lot of competition for abandoned pets to find homes. The media we use to get these babies adopted is online search engines for adoptable animals like, Petfinder.com and Adoptapet.com. Regardless of how cute, good natured, cuddly, or well trained your foster is, if they do not have a good adoption profile, they will not get adopted. The only thing that will differentiate your foster animal looking for a home from the hundreds of others also online, is their online adoption profile. There are two simple steps to creating a good online adoption profile for your foster; step one – their profile pictures, step two – their adoption bio.
Adoption Profile Pictures
With hundreds of animals to compete with, the first thing that will catch the eye of a potential adopter is your fosters profile picture. Therefore it is very important that their profile picture is good quality and eye catching, it needs to make them stand of from all the other animals on the same page as them online.
You do not need a big fancy camera, or even photography skills. As long as you know how to take a focused picture and upload it onto your computer, then you are good to go! Taking a good profile picture is simply done by following the steps below.
What is considered a good profile picture:
Focused, clear, good lighting
Your foster is the center and subject of the picture, not other animals or people in the picture to distract attention.
Your foster should be taking up 1/2 to 3/4 of the frame of the picture.
What is considered a bad profile picture:
Unfocused, unclear, dark lighting.
Your foster is not the center or main focus of the picture and there are other animals in the picture (confusing for adopters).
Below is an example of a good profile picture: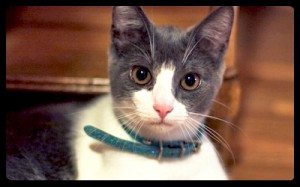 First is an example of how a potential adopter will be looking at a page on a search engine, the second picture is an example of a good eye catching profile picture (Sherlock), and how it stands out compared to the others around it.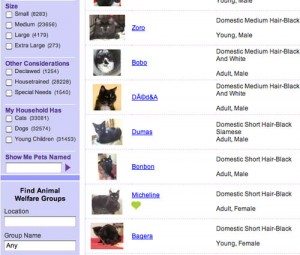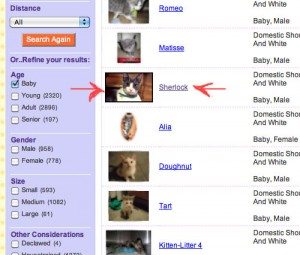 Creating a Adoption Bio
Adoption bios need to be short and sweet but yet information, truthful, and interesting. It important that the bio promotes the animal without sugar coating or minimizing issues, otherwise it can falsely lead potential adopters on and will not create the best match for your foster. For example; if max likes to chase squirrels and your cat under the couch, do not say he good with cats, simple say he would be best placed without small animals as he has a prey drive.
Here are a few easy questions you can answer to help give potential adopters an idea about your foster animal:
A little bit about your fosters temperament
How the animals interacts with you
How your foster interacts with the other animals or kids in your household
Favorite sleeping spots or toys
Quirky habits that makes your foster unique
Why your foster would make a great addition to any family
Example Adoption Bio: Nelly is very affectionate and just loves giving head buts and rolling on her back for belly rubs. She is vocal and likes to let you know she is in the room. She gets along great with the other cats in the house and is not bothered by dogs either. She loves sleeping on the top of the couch with the sun on her back. Nelly likes drinking water with her paws, in fact she likes to play in the water and splash it everywhere. Nelly would make a great addition to any household because of her easy going nature and not to mention has plenty of love to share.
Now that your foster has an outstanding online adoption profile, they are well on their way to finding that perfect forever home! Thank you for opening up your homes and hearts to these homeless animals!
Article by Caroline Ross of Eleven Eleven Animal Rescue