Okay, so it's not a dog or cat story.  But we couldn't ignore this plea for help:
Refuge RR for Horses / The Canadian H.E.A.R.T (HorsE and Animal Rescue Team) have been looking desperately for homes for the past six months for these beautiful  8 Herefords cattle.  They have been spared being brutally slaughtered, yet will not be cared for in the winter.  As soon as they run out of pasture they have no food.  They need homes asap.
Not one person has responded to this refuge's plea for help.  Please help them find these gentle beings homes so they will no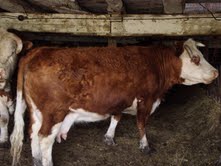 t end up on someone's plate!
There are 2 adult bulls 3-4 years, 1 bull calf not yet a year, 3 adult cows 4-5 years, and 2 female calves not yet a year.  Please think outside the cage and search for homes for these animals.  And send the contact info here:
www.refugerr.org
refugerr@xplornet.ca
The Canadian H.E.A.R.T (HorsE and Animal Rescue Team)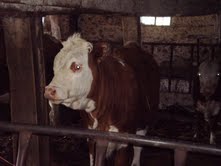 thecanadianh.e.a.r.t@hotmail.com