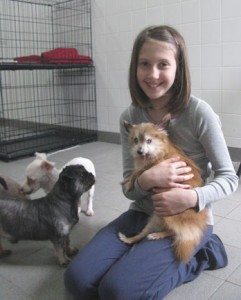 I am thankful today to have met this young lady just over a month ago. She left such a lasting impression with her devotion to animals I had to write about her ASAP.
Maya will be a force to be reckoned with in the future with regards to the plight of animals in our community.
She is an inspiration to all.   Oh …and she is only 10 years old!!
( Her mom Caroline Kemp, is pretty special also:) )
Where do you live now and who lives with you?
I live in Westmount with my Mom, my Dad and my sister Emma. I have 3 cats, Ally the oldest, Muffin and Maddy.. and 2 foster kittens Simba and Chester, 1 dog named Ginger and 7 snails.
 When did you first realize you wanted to help/work with dogs? How old were you?
About 1 year ago when I was 9.
 What was your first experience in working with/helping dogs?
My first experience working with dogs was at the Underdog Gallery on Sherbrooke Street but I really started last January at the SPCA Emergency Shelter. My mom and I would go and walk the big dogs and sit and play with the scared little puppy mill dogs.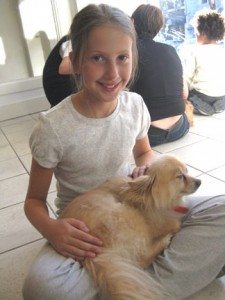 Where do you volunteer now?
Anywhere I can. Mostly my mom, my dad and I transport dogs from pounds to foster homes for Paws for Life Rescue. I want to start walking the dogs at the SPCA emergency shelter again soon.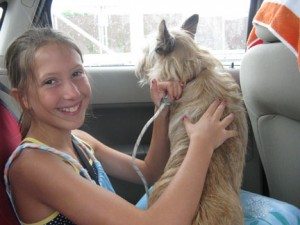 How did you decide to start blogging? Tell me about your campaign to raise funds
I decided to start blogging to create awareness. I started keeping a journal and my mom said that we should put it on line so that the people sponsoring me can see what I am doing. For every 10 dollars donated I donate an hour of my time to animal rescue.  I want to try to raise $2000 dollars. So far I have raised about $700 dollars.
 What would you like to do in your future regarding helping animals?
I want to be a marine biologist and a veterinarian. I want to continue to help rescue all animals and I want to start a sanctuary and I also want to help orangutans who are being killed because of palm oil plantations.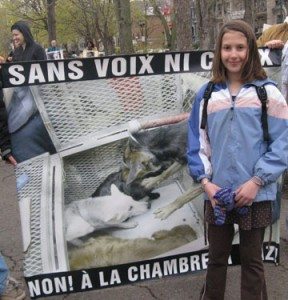 What would you like to tell fellow Montrealer's of all ages about helping animals in need?
.
I would like to tell them that to stop buying animals from pet stores and to adopt animals from rescues. They should maybe take a little time to volunteer with animal rescues. They can foster animals or do transports, or help at the Emergency Shelter because any little thing helps. They can also help take care of the stray cats in their neighborhood especially in the winter when it is cold. There are so many homeless animals in Montreal.
Have you encouraged your friends to volunteer as well?
One of the ways I create awareness is that rather than giving my friends store bought gifts, I make a donation to help a rescue animal. I give them a card with a photo of the animal the donation is helping. Most kids seem to really like it. I also requests donations rather than gifts for my own birthday parties.
Want to read more about Maya and help her raise awareness and donations?
Sign up to her blog now…
mayasanimaltails.blogspot.com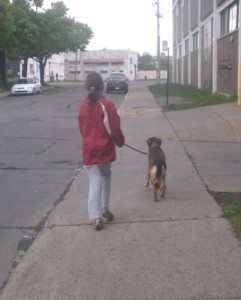 TPK
‎"In rescuing animals, I lost my mind, but found my soul." ~anonymous