Once again, the SPCA is overflowing with cats in need of loving forever homes. In order to order to promote the adoption of cats in need of a family, the SPCA is once again hosting a special adoption event for adult cats.
The MSPCA is calling on the public to come and adopt a cat during this special promotional weekend on October 16th and 17th.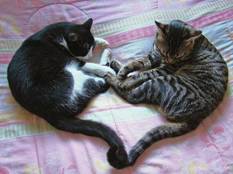 During this time the MSPCA will absorb part of the adoption fees for cats that are 1 year and older.  Included in the adoption fees are spay/neutering surgery, basic vaccines, de-worming, micro-chipping and a health guarantee. "The MSPCA has hundreds of amazing cats that need homes and many more coming into the shelter on a daily basis, and we are hoping to encourage people that want to adopt a cat, to come and do so now." said Alanna Devine, Director of Animal Welfare at the Montreal SPCA.
During "Feline frenzy weekend (THE SEQUEL)" the same adoption screening processes will apply and potential adopters will be interviewed to ensure they reply to our adoption criteria and that we make the right match between cat and family. We would like to remind people that all family members must be present during the adoption. "The idea is simply that the Montreal SPCA is absorbing part of the regular adoption costs (which cover the services included in an adoption) in order to promote the adoption of cats during this time" stated Devine. The regular adoption fee of 125.00$ will be reduced to 60.00$ for cats 1 to 4years old and 40.00$ for cats over 5.
The MSPCA is reminding people that older cats can make wonderful companions and are encouraging the public to come and adopt a cat in need. Adoption hours for this event are Saturday and Sunday 11 am to 5 pm at 5215 Jean Talon West.
Temporary foster homes are also needed.  People who wish to offer a temporary home to a cat or a dog can contact the Foster Family Program at 514-735-2711 ext. 2237.
For further information contact:
Alanna Devine, Director Animal Welfare
Phone: 514-735-2711 ext. 2245
E-mail: adevine@spcamontreal.com