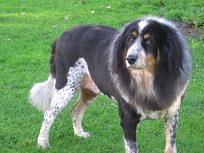 Rocky has found his new family!  Thank you so much to everyone that has shared this post on their facebook wall and tweets!!  Here is the message from Country Meadows Boarding:
First of all thanks to Jennifer in Hudson who brought Rocky into his new forever home  to join Cuddles her black lab.  Second, we would like to thank all of you who helped save a great dog.  It warms our hearts that there are so many people willing to help.  We received (and still are …so forward this ASAP) more than 100 emails and countless phone calls. We even got an offer to help from Utah!  Spread the word that Rocky is safe and keep up the great work.
Hey – Nat Lauzon here.  Some of you may have received this in your inbox.  I did – and needed to know more.  So  here's the story about Rocky.
Just got off the phone with Franki from Country Meadows Boarding, in Rigaud where Rocky has been for over a month.
His family initially kenneled him, saying – they needed to board him for a week, while they got married.  A week turned into 5.  Excuses were made. Phone calls were not returned.  Time marched on.
And all the while, Rocky waited for his family to come back and get him.  Eventually, the owners decided with their new baby, they didn't want him anymore.
The boarding facility has been trying to find him a new home.  They wanted to keep him through December – at a discounted rate.  But suddenly, Rocky's owner has decided he's had enough.  He plans to pick up the dog this Thursday to have him euthanized.  The easy way out – and a tragic circumstance for a perfect gentleman of a dog.
The hopeful light is…the boarding place believes that if we can find a home for Rocky, the owner will sign papers to let him go.
So – please – can we find Rocky a home?
He is, quote "beyond a dream".  Calm, quiet – great with kids and cats – as he lived with them.   He is 9 years old – and has slight arthritis, but other than that, he's in great shape.
Country Meadows would like to emphasize that they don't want him placed in a shelter facility.  He must go directly to a foster home or better yet, a permanent home.
But we need to work fast.
If you can help – here is the contact info – and please share this message!