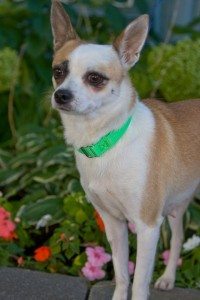 No one could understand why this incredible little chihuahua mix wasn't get adopted.  She stayed at the SPCA Emergency Shelter for weeks – and despite her charm, gentleness and obvious good looks – she just kept getting overlooked.
Until Marcel.  Who brought Peanut home over the weekend to her forever home!
And as a friend of Marcel's, I'm thrilled to know that I get to know her now too!  Make adoption your first option.
Check out some of Peanut's recent pics (of what I guarantee you will be MANY!)
Love at first sight: