MILLIE'S BEEN FOUND!   Thanks to everyone who spread the word!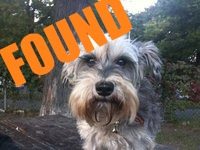 Lost in Ville Marie around Maisonneuve and Plessis
7 yr old Salt n Pepper Schnauzer. Very timid (was a rescue from a puppy mill). She escaped off our patio and is very interested in the outside world. She is wearing a rainbow collar with a stainless steel doggy bone medallion.
Her name is Millie and she is noticed by her bark (lack there of as she is de-barked)
Phone 514-439-9049
email escape23hfx@hotmail.com orcharliesguitar@gmail.com
For tips on how to deal with a lost or found animal, click here.