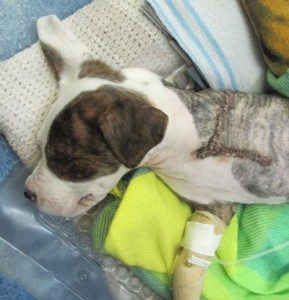 Little Billy Elliot may not have had the best of start to life, but he still greets everyone with a face full of kisses and an enthusiastically wagging tail that moves his body from head to toe. You may wonder how a 8 week old puppy ended up needing an amputation so young, well all we know is that he was apparently found as a stray and surrendered with a multiply fractured leg (old and new fractures). Who knows what, or who did this to him, if only he could tell us. But all we know is that he is safe, well loved, and on his way to a whole new life now, where he will never end up on the streets again.
Before i rant about what kind of human being would either dump an 8 week old puppy to be hit by a car, or would physically injure the dog themselves, lets remember that; if this puppy's mother had not been bred, this inflicted cruelty would have never occurred. Speaking of, where is the person responsible for brining this puppy into the world, while it dragged its broken leg around? No where? That is not surprising. The only person responsible for the cruelty this dog injured, is the irresponsible [bleep] owner who decided to breed his/her dog. They probably sold him for a few hundred, and are sleeping just fine at night thinking the first person who lay down the bills for this puppy will provide a safe an loving home.
Little do they know that a few days after they probably sold the puppy, way before he should have been separated from his litter (12 weeks minimum, to prevent life-long behaviour issues related with lack of socialization from being separated forma the litter and mother too young), he was dragging his multiply fractured leg around while trying to find a roof to hover under for warmth. But because the breeders probably will not to a follow up post-sale, they will never know, nor do they care, that this was what came of their puppy they choose to create.
As the breeders made a buck of this puppy, he has cost us a pretty penny, but every penny is worth it for him. Tuesday morning November 2nd, we received this little 6 pound pup. X-rays revelled a multiply fractured leg, from above the elbow all the way down to his wrist. The only option was amputation, which that afternoon was performed.
Only 24 hours post-operation Billy was already up and running around, playing with the clinic employee dogs and pulling on clients pant legs.. up to plain old puppy mischief. He is an amazing and true representation of dogs, and his breed, a Pit-Bull. Despite his rough start, clear neglect, and immense pain; he remains unconditionally loving, forgiving, and un-tainted by his experiences.
To contribute towards his surgery funds or follow his updates please see here: http://www.elevenelevenanimalrescue.org/sponsoring-an-animal-3x/39-saa-billy-elliot.html
You are also invited to meet him in person! At his Meet n' Greet – Pet Beauty Day Fundraiser THIS Sunday (Nov. 14th) at Naturalanimal in Westmount from 11:30am to 4:30 pm. See details here: http://www.facebook.com/event.php?eid=138088346241877
By Caroline Ross
Founder, Eleven Eleven Animal Rescue