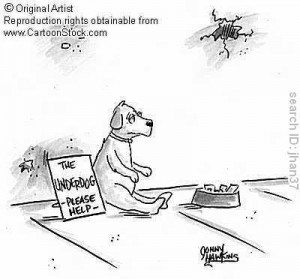 The Underdog Club and student volunteers from Reach School will host an adoption day for dogs in need of forever homes.
An array of four-legged rescues will be on hand from the SPCA Monteregie and Eleven Eleven Animal Rescue in St. Lambert.
What: Underdog Awareness + Adoption Day
Where: Reach School,
471 Green Rue, Saint-Lambert, QC J4P 1V2
When: Saturday, November 27, 2010
Time: 10:00 am – 3:00 pm
Who: Underdog Club + dogs from SPCA Monteregie and Eleven Eleven Animal Rescue
The Underdog Club is the first ever Dog Marketing Agency. We package and promote hard-to-place dogs, you know, the old ones, the ugly ones and the downright unpopular ones, so they have a shot at a better life.  Look, we're all going to be old one day, some of you may be ugly and we've all been unpopular at one time or another, but that doesn't make us any less worthy of love.
These dogs are often forgotten or ignored in rescues and shelters with little hope of a better life.
The Underdog Club, a not-for-profit organization, helps these needy characters in creative ways. We help fund special cases, educate kids on animal welfare, and bring together a community of dog lovers in a totally novel and inspiring way. We may be all about dogs, but we know our success depends on quality people. And if you're on this site already, you can't be half bad.
Welcome to the Underdog Club. Join for the inner-outcast in you.
http://www.spcamonteregie.com/
http://www.elevenelevenanimalrescue.org/
Contact:
Cynthia Lee
The Underdog Club
514-814-7793 cynthialee514@hotmail.com