SPCA Monteregie will be having a Cat Adoption Clinic this Saturday.
Please take a look at these "Big Boys" – that are full of so much love and  looking for loving homes for the holidays (and the rest of their lives!).
Most likely,  all 3 of these fabulous fellah felines will be at the adoption day tomorrow:
Sat. Nov 27th at Canin-Félin Express
148 St-Louis, Lemoyne
10:30am-2:00pm
But if you can't make it and you are interested in adopting one of them,  please contact:  Cindy Hache: info@spcamonteregie.com or 514-386-5960 (usually faster by phone) to set up an appointment.
1) BEAR: He is 5 years old and a huge and loving black cat. His owner recently passed away; after that, he was left to live alone with nothing but a big bowl full of food left for him for three weeks. A nice family kindly took him in, but the husband has allergies so they couldn't keep him. He is friendly and surprisingly playful for such a big cat!!! The woman who took him in said that he is very social with people. Can you help Bear to have a great life after everything he's been through?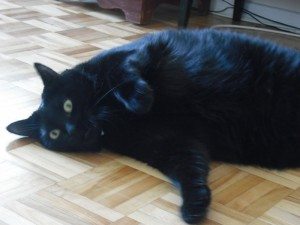 2) CASTRO: Castro is a handsome white and orange big boy who is 2 years old. Left outdoors when his owners moved and left him behind, a neighbor picked him up and brought him to the SPCA Monteregie. He is declawed and sterilized. Castro is a very gentle, sweet cat who loves affection and loves to purr. He also loves to eat and will do anything for a treat!
3) ELLYS: Ellys is a very big and extremely sweet tabby, approximately 5 years old.  He is declawed and sterilized. He is incredibly affectionate and never gets tired of being patted. He was abandoned at the shelter last October and is currently in a foster home with other cats and dogs and is getting along well with them.
Liliana Posted with WordPress for BlackBerry.