I have never really neglected one very important dog care issue-Paw Care.  However, I have become even more careful since fostering ( soon to be adopted:)  Punky, from Taiwan.  Punky is disabled ( not that she thinks so) and does not  have much use of her back legs.  So, her front paws really get a beating because they do the work of four.  Punky is not used to the cold weather ( in fact she was just introduced to snow for the first time).  She is potty trained and goes outside.  We carry her out but she asks.  Not only is this a very cold and uncomfortable feeling for her, her front paws are simply not used to the wear and tear and the cold!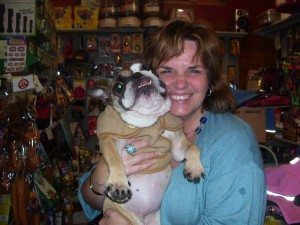 We have our winter gear all ready to go…the boots, coats, scarves, mitts, hats are all over..ready for that long winter ahead.  We all prepare those things we need to protact ourselves from the chilly cold, harsh snow and dangerous ice.  It is important that we go through the same preparation with our pets. We have to be concerned- imagine if we had to face Montreal winters in bare feet? 
There are ways we can prepare our dogs for the long winter as well, and help protect them from any injury or discomfort associated with the harshness that comes along with it.  I don't know about you but I am thinking about Florida at this time and wish I could be running on the sand with the dogs and a nice warm breeze on our backs-Ok ..back to reality!
There are many things we have to think about in order to prevent our pets from cuts, abrasions and embedded "bits" of various stuff that cause a variety of  paw problems.  This is the time when those road and sidewalk salt deicers come out-mostly made up of nasty toxic chemicals ( i.e magnesium chloride).  They may do the job ( they are intended for) but they are dangerous and so toxic that if ingested, could lead to sickness very easily.   I do not know about you, but our dogs, will have no trouble spending several minutes licking their wet and irritated paws after such a walk. 
At home, we have a lot of options-we have used sand, gravel and even cat litter in our driveways and on our stairs.  We have even used bird seed- It gives excellent traction and the birds will enjoy the snack  and help break up the ice while eating it.  It is also possible to buy greener and non-toxic de-icers at local health food stores.  Unfortunately,  we can only ensure these non-toxic chemicals are used around our own home and walkway, and do not have control of what other people choose to use as well as city workers.  Punky, may be mainly using our yard, but the other doggies get daily walks and I am always on the lookout for those nasty pellets and any discomfort the dogs may be experiencing as a result.  It is common to see them limping after what is supposed to be an enjoyable outing for them.
I have tried the booties, etc and they do not work so I have implemented a few preventive measures to protect all the dogs and their paws!
We use dog balm.  I have Woofers Paw and Fur Balm made right here in Montreal by Woof Cosmetics.  It is made of coconut oil ( my fav and a must have) shea butter, aloe vera and a blend of essential oils.  It is great for all of the doggies, including Punky, and protects against cracked paws.  There are many similiar products, and in my opinion, a measure that will act as an invisable sheild and prevent everything from abrasions to cracking.  Also, look for products that contain vitamin E- an excellent healthy mositurizer for dogs as well!
We also make sure to keep the hair between our dog's pads clipped short so that snow, iceballs and deicer pellets do not build up.
We cut their nails regularly because long nails can cause a lot of discomfort anytime. 
After any outing, we wipe / rinse all of their feet, legs and stomach so that do not lick any of the rock salt or de-icing chemicals they may come into contact with.
You can also try doggie boots-ours will not wear them but you may have an easier time.  Obviously, like our boots, they will fully protect their tender tootsies as well! 
Let's do our best to ensure that our animals are also prepared for the long winter ahead!  If they are not as eager to go for that daily walk, it may be bcause they associate it with pain and discomfort.  Watch for a change in behavior and also watch for any physical signs.  It could be a long one……(:
As for Punky- she is adjusting and even got a brand new down filled coat:)
Happy winter!