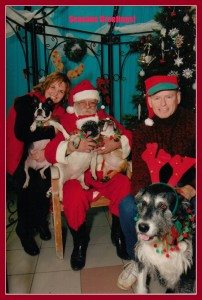 I have to admit, I used to love sending and receiving cards but over the last few years, I appreciate that I am not adding to waste.  I always get a family pic done at Christmas and send a few especially to family and friends but overall, I get an online card to send to Co-workers and business partners and also ones to send to most family members and friends. Every year I get better and find so many creative ways to send a wish online and go the paperless route.
I know, I know..it's not the same thing but most Christmas cards are made of cardboard, therefore it took trees to make them.  It is possible to still use cards but a little more thought and care has to put into our choices..there are some made out of recycled cardboard (check for those with Forest Stewardship Council certification).  If you are one of those people who can not imagine the thought of not sending Christmas cards and not making the trek to the post-office, trying to get them all to their loved ones on time, take a look at alternatives ..cards made of hemp, soy, bamboo, and recycled paper are much easier to come by or to order.  Companies like Zazzle and Earth friendly ( my fav) offers some cool choices!  Visiting your local health store or Co-op will also offer you some other possibilities while keeping the impact on the environment at the forefront!
Except for  the few picture cards I send ( and I expect those receivers to treasure them), I am more and more drawn to paperless post via my inbox rather than my mail-slot.  I truly find it hard to think that 1 tree = 1, ooo greeting cards…and my thoughts go further when I think that most simply get thrown out around the same time as the lights get put away! 
E-cards cut out the need for any physical card at all and you will save trees and save $$$.
I have to admit, I love care2.com-did you know that credits can be earned to help shelter pets?  How great is that?  You can also go the WWF or the ASPCA website….please, think about sending some e-love!
And if you still want to send a picture of yourself and your family,  use picnik …look what I created!
And guess what..it can really catch on and people will get the e-card bug and the search for the ideal card will be on!
Soooo.pay it forward!
Happy Holidays to all you Montrealdogblog fans and your furry babies!
Shelly, Wayne, Bailey, KK, Mya and Punky!