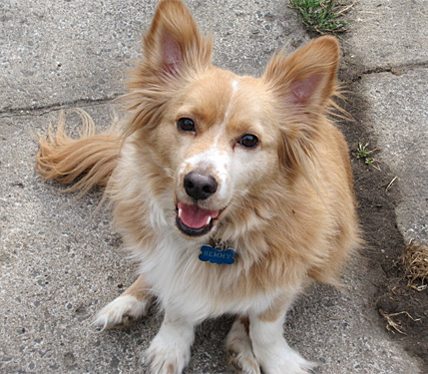 Everyone has bad habits, some are addictive, some are compulsory and the last one is behaviourism. We accept the good and the bad in people but when it comes to animals, we only want the good and get rid of the bad.
I have bad habits, among them is Petfinder.com. I love looking up breeds that interest me. I love all dogs but like any owner, we always click with some. And this is what leads to the story of Remmy
It was early November, 2008. I had my hands full trying to train Gambit and keeping him away from Nicky. She had reached her last strand of patience with him. Every time she tried to nap, he'd back up like a truck, calculate his move and sit on her head. She'd wake up angry like a bat out of hell and chase him around the house and bite him. He though it was an amazing game, she didn't.
My best friend told me that I should try and find him a play date but its not that easy. I worked a lot at the time and the dogs I did know didn't get along with Gambit. My friend was watching television as I started to browse Petfinder. I don't know what caused me to look up the breed of Pembroke Welsh corgi but I did, I always referred them as "the queen's dog" since she has a million of them popping out of everywhere. There were quite a few available, mostly older dogs that needed special medication. Looking a bit further out of my zone, I noticed one available in Vermont. Remmy (yes I know its Gambit's x-men human name) and he is a corgi mix. The first thing I noticed about Remmy, other then his breed, was the fact he was labelled a red collar. Anyone who knows anything about dogs, knows it means one thing; AGRESSIVE. He had food aggression, toy aggression, slight dog aggression and children aggression. His ad had a warning that only experienced owners should bother applying.
I rehabilitate dogs with a rescue so I know the level of patience required to help them. I also own two other breeds that require much focus so I though myself the perfect home for him. As I showed Remmy's ad to my friend, she frowned and told me "No more pets!" and I whined a bit and she kept telling me the same sentence. By the time she left, I started filling out the application. Within a few days of emailing each other back and forth, I finally was approved for adoption. At the end of the month, one day before the trip down to Vermont, I got an email explaining that Remmy was mauled by a pit-bull (personally, I find they are a wonderful breed) and he was badly injured and on medication. She asked if I still wanted to adopt him because he looked really bad and my reply was "I am not going to back out".
The trip down to Vermont was hell.
We left my place Sunday the 23rd of November at around 10 am with the dogs. Our plan was a 3 hour drive down, meet Remmy then 3 hour drive back home. We had to take exit 6 to find our way to Williamstown in Vermont. We were singing to songs, enjoying the view and everything was going well. At exit 8 (exits go from high to low) the truck suddenly stops. It wouldn't start anymore!
We got towed to the rescue and they look baffled at the tow truck. We met Remmy, he was put outside for the introduction in a large backyard, away from the other rescue dogs. He looked horrible from all the wounds he had on his body. We mixed him with Nicky and Gambit and the three got along perfectly, I noticed his aggressive traits surfacing from time to time but with a few corrective words, he'd be quick to duck and wander off to avoid disciplinary actions. I knew I had a lot of work ahead of me with him.
Once we met in person, Sam explained Remmy's background more explicitly. At three months old, he was adopted and chained up in a backyard where he was only fed when the family remembered he was there. He was then given to the family's friend who had children. They weren't careful with him and hurt him a few times and when he was given a treat and the mother tried to forcefully take it back, she got bit. That's when at 6 months old, he was in the rescue.
I signed the papers, took his medication and we were driven to a motel that accepted dogs. I didn't get much sleep; Remmy was scared at this point being changed homes again and was hiding under the bed. My friend and I mostly watched television throughout the night. At times Remmy came up on the bed to stare at me but as soon as I returned his gaze, he went to hide under my bed.
In the morning (Monday), we picked up breakfast and got the truck towed from the rescue to the garage. While they were inspecting the truck, I was walking the three dogs and Remmy quickly picked up the fact he had a family now. The mechanic came back and announced that the truck engine had seized. So we ended up renting a 10ft u-haul and a trolley to tow the truck back to Canada. After all this excitement, all arrived safely home. When we got home, I had to remove all the toys, Remmy already began showing extreme signs of aggressive trying to claim everything as his own and trying to horde everything he could, in a corner. He was becoming aggressive with my other dogs when it came to furniture he was already on.
Now the work began. It took about 2 months for the food aggression to completely die down. The toy aggression took about 5 months. The children aggression took almost a year and to this day, I would not leave him unsupervised. Overall behaviour with other dogs has improved 90%. He still doesn't like sharing but he knows that if he wants to keep toys around, he can't be selfish.
Even though it took me quite some time to rehabilitate him, I never regretted taking him in and my friends still can't believe how much he has changed. It comes to show that all dogs can improve themselves just like people. I'm not telling you guys to go out of your way and get an aggressive dog. What I'm saying is;  with a proper trainer, love and patience, a troubled dog can change and show that hope, should never be lost.