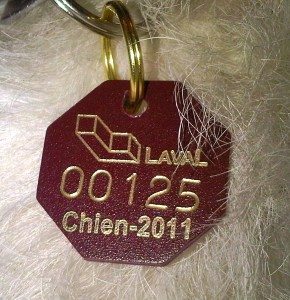 Please be advised that it is the time to get your furfriend's permit in order to be legal in your community. As far as I know…amongst my friends I think we are the only ones that went to get our two dogs registration tags in Laval today. It is very well explained that as responsible pet owners that we are, our pups need to be registered and must wear their tag in order to be proper citizens of Laval. We just moved to Laval not that long ago so we went to the City Hall of Laval and have our pups registered. Sheena and Nanners are now legal in the city.
Although we paid 27$ for each one of them, many questions were left unanswered. Does any of that money go to support Animal Control? Is there someone that actually has control of how many animals are registered in our city? What are the benefits of having our pups registered? How come it is more expensive to register an animal in Laval than in Montreal? Who is in charge of animal control in Laval?
There is a website for CSPCA Laval http://www.ultra.ca/spca/#autres, yet it says that it has been closed since June of 2009. In May 2008, The Gazette (Montreal) published that the reason why CSPCA Laval was closing its doors was due to high costs and that CSCPA would be closing its doors July 31, 2008. The article states that "remaining animals would go to either to Berger Blanc or Montreal's main CSPCA facility on Jean- Talon Street."
I know SPCA Montreal "is responsible for animal control in several boroughs and municipalities throughout the greater metropolitan region of Montreal." It even mentions to cover all the way to Kirkland but I do not see anywhere on their list that they cover Laval. So what happens to any unwanted animals or that get lost in Laval? I had to know so I went and visited Mr. Google for some answers.
The agency responsible for animal control in Laval is Le Berger Blanc Inc which is located at 914 rue Cunard. So do I feel like a dumb ass? Yes I do. For trying to be a responsible dog owner I have just given money to a place that it is known for its dubious treatment of animals and this past month I even signed a petition for this place to change its managing or close due to its atrocities.
This is what happens when I don't inform myself and allow my husband to take initiative with caring for the well being of our pups. I love you honey, but this is the last time we pay the license of Sheena and Nanners. It is a shame the city of Laval entrusts the well being of our animals to such a disgraceful place. I prefer paying the sanction for not having them registered than keep on giving money to a city that if my pup gets lost will be taken to Berger Blanc.
For those that live in Montreal, please click here to go the website where the information is given to see what are your responsibilities as a pet owner in the Island of Montreal.
SPCA Montreal is responsible for animal control in several boroughs and municipalities throughout the greater metropolitan region of Montreal. Please click here for more information
To sign the petition to take action against Le Berger Blanc Inc Please click here
To see the Laval Animal Control information: Réglementation sur les animaux