The following is a courtesy listing: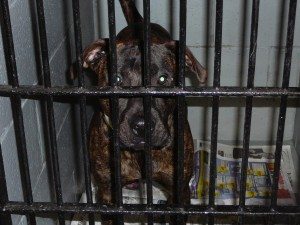 Here is a beautiful Pittbull Cross who is in a pound in Ste. Adèle.  He needs to find a home before Tuesday 11 January. If not, he will be euthanized.
He's a male around 2 years old – not yet neutered. He's very playful, gentle, affectionate and he's also housetrained. He gets along well with  other dogs, but cats are an unknown as there are no cats at the pound.
Anyone interested should contact the Ste-Adèle pound at 450-227-2768 and ask  for Carole, Simon or Josée.  Adoption fees of $60 will apply.