ABOUT THE PRIZE:
Montreal Dog Blog and Eleven Eleven Animal Rescue are raffling off a pair of tickets to see your Montreal Canadiens destroy the Leafs  – Feb 24th at the Bell Center, 7:30 pm.
These tickets have a face value of $183 each.  Seats are in the Desjardins "Le Club" Area:  Section 220/Row E/ Seats 1 and 2.  Food is included!
Everyone who donates at least $10 to Eleven Eleven Animal Rescue will be in to win!
WHERE YOUR MONEY WILL GO: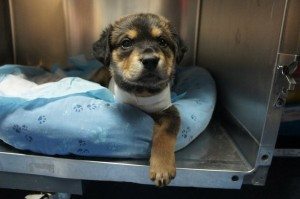 Your donation will go to a very special case – to pay off Hunter's vet bill bill. Read his touching story here. His amputation was expensive, but what was most expensive was his general care.  Antibiotics, pain killers, hydrotherapy, and bandage changes twice a day everyday until amputated (8 weeks). Post-op issues (came down with a bad gastro a few days after the surgery and had to be hospitalized). What was probably the most expensive was his milk replacement formula until weaned.
RAFFLE:
$10 – for 1 entry
$20 for 3 entries
$50 for 10 entries
NOTE: The raffle 'ticket' is a virtual ticket – you will not receive a ballot in the mail.   Draw will be Monday,  February 21st around NOON.  Please include your phone number/e-mail so we can call you if you win! Good luck everyone!
HOW TO ENTER THE DRAW:
select the # of tickets you want to buy from the drop-down menu, hit "Buy Now"
You can pay with a valid Paypal account or credit card
ABOUT ELEVEN ELEVEN ANIMAL RESCUE:
Eleven Eleven Animal Rescue is a Montreal, no-kill, foster-home based rescue and registered non-profit organization. We rescue, provide needed medical care, rehabilitate, and re-home a wide variety of animals including exotics but predominately dogs and cats. Eleven Eleven is based on a strong team of devoted animals lovers and experienced medical professionals. We aim to rescue as many animals in need as we can, while still providing an exceptionally high quality of care per animal. With each rescue our goal is to find the animal its forever and final home, where it can live without fear of cruelty or abandonment.