UPDATE:  This kitten has been found – a bit underweight but otherwise fine!  Thanks everyone!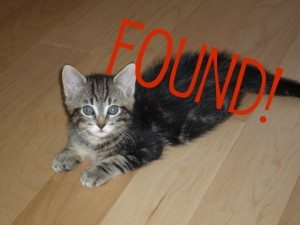 Keep an eye out for this tiny, 6 month old kitten.
Zorra was lost in the snowstorm in St. Bruno just days ago (Feb 6th) on rue Juliette-Béliveau. If you live in the area, please take a look in your garage to see if she took shelter there from the elements.  If you find her, please call her owner:
Sébastien at  514-736-4111 poste 2413.