BON JOVI FEVER – RAFFLE TO BENEFIT PETITSPAWZ!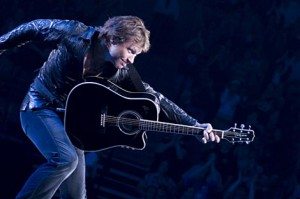 APPROX 1 IN 16 CHANCES TO WIN*
Montreal Dog Blog and PetitsPawz are raffling off the following items:
A) TWO SETS OF BON JOVI TICKETS (4 tickets)
Date: Wednesday May 4th
Where: Bell Center, 7:30 pm
Seats Set 1:  In the promotors section, reds, right near the stage!
Seats Set 2: Reds Section 116 U3 & Section 116 U4
B) DRUMHEAD – AUTOGRAPHED BY THE ENTIRE BON JOVI BAND
Beautifully presented in a glass casing
Comes with certificate of authenticity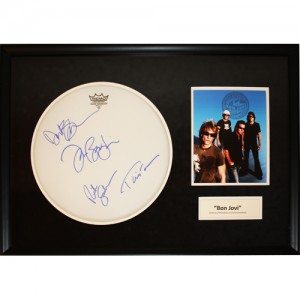 C) OVER 20 ADDITIONAL PRIZES TO BE WON:
RAFFLE:
$10 – for 1 entry
$20 for 3 entries
$50 for 10 entries
ABOUT PETITSPAWZ:
PetitsPawz is a volunteer-based, registered local rescue, tackling the huge issue of stray cats in the Montreal area. Read about their great work here. And check out their official site here. If you like, you can make your donation in someone else's name and feel good about where your money is going!   BTW:  The raffle 'ticket' is a virtual ticket – you will not receive a ballot in the mail, however you will receive a confirmation by email.
HOW TO ENTER THE DRAW:
Click:  Donate Now
Donation Amount: enter a minimum of $10 for one ticket (or $20 for 3, $50 for 10)
Fund/Designation: select the corresponding designation from the drop-down menu.
Message Box:  include your phone # and/or e-mail – the manner in which you want to be contacted if you win.
Dedications (optional):  you can 'gift' this as a charitable donation on someone else's behalf if you like – great gift idea!
You will get a tax receipt for your donation.
BY CHEQUE:
You can also enter by sending a cheque to:
PetitsPawz
1125 Moffat Ave.,
Verdun, Quebec
H4H 1Z1  (but make sure you send it with enough time to spare! We can't be responsible for cheques that arrive past the draw date!)
Tickets on sale until March 4 – 2pm
Tirage le 5 mars, 2011 /  Draw takes place March 5, 2011 at the Playing for Pawz Event at La Kachette in Dorval. See poster: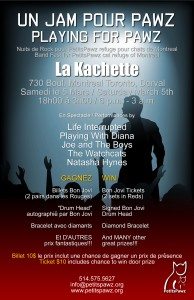 Informations: 514-575-5627 / info@petitspawz.org
And thank you for supporting  a great local charity!
// //