The following is a courtesy listing in order to help find a home for this pup with special needs. Please be kind and share amongst friends and family.  This dog is near Magog, and they would be willing to drive him to his new home.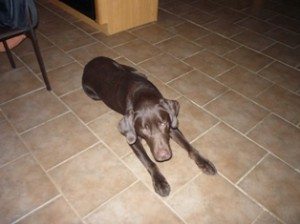 Lucie Blanchette describes Vigo:  
He is  a 2 years old chocolate lab, fixed  clean, affectionate  and beautiful.
  Vigo copes very well with his " environment "  when he is familiar to it. He is a very friendly pup. He wants to play with my 2 other dogs but they don't want to play.  When I brought him at the dog park he was able to play with some dogs. He is not aggressive but he is very hyper.
 At night , while I watch T.V. Vigo likes to sit with me and sleeps. He can stay like that as long as I don't move. That is the only time when he calms down.  Vigo needs special care and likes to follow me wherever I go. It is hard with Vigo when  I have visitors. Vigo gets nervous and he tends to  jump on people .
 Personally, I think that enough exercise (as a lab needs) would be the solution to his hyper behavior. Thank you so much for what you are doing for him. I am convinced that there is a better place for him somewhere. 
Contact:  Lucie Blanchette  luciebkmlm@yahoo.ca   (819)432-0256