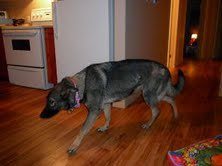 My name is Nickie and I'm a German Shepherd 2 year old female. I have a very submissive personality. I was born from a BYB and my life has never been easy. I live in a dysfunctional family with 2 kids.
For the longest time, I spent my days tied to a post in the basement of the family house. My only crime: the son would beat me repeatedly and I was kept away from him. Two months ago I was moved. I now live between 2 doors. All day, every day. These people abandoned me to the pound once but came back for me after 6 days of pure hell. I came out of the pound in a pitiful state. Injured, sick and emaciated.
Today, they have decided that I should be adopted to another family for my own sake. I urgently need a foster family, just for a while, in order to find me a permanent home. It is dire, I live between 2 doors and someone has to step in before I go back to that hellish pound. I am very submissive and I need help to get out of here. I would like to know what it feels like to be loved, have toys of my own, go for walks. I would like to have a real life.
Please, won't you help me find a loving home? My forever home?
Contact Lise, she's trying to help me:  450-821-0775