A message from Refuge RR: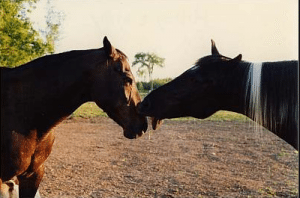 Village Scene Productions presents the play "Equus" by the Tony Award winning playwright Peter Shaffer . Yes this is the same play that was re-popularized in London's West End and on Broadway by non other than the famous Harry Potter's Daniel Radcliff.
The event itself, is on Saturday, April 16th. Tickets are available now.  50$ includes, at 7pm welcome cocktail event*, coat check, special pre-selected seating, the play at 8pm, a meet and greet talk back post play session with the cast, a performance by every one's favorite band Soul Fusion at 11 pm. 50% of the ticket price goes from the patrons to Refuge RR for Horses and you will receive a $25  tax receipt.
More than ever Refuge RR for Horses needs your help. We have taken in so many animals that have been brutally abused by people that it is taking a toll on us financially. Without your help we can no longer help horses like "Keithman" who had his skull fractured by his owner, or "Aurore" who' s owner tried to kill her by fracturing her skull, knocking out her teeth , putting an axe through her neck and then finally trying to starve her.  The list of those who have suffered goes on and on but with your help we can stop the suffering.
So join us at this amazing once in a lifetime fundraising event ! Reserve now as tickets are limited.
When –  Saturday, April 16 , 2011.   7:00 pm
Where –  The famous Rialto Theatre , 5723 Ave du Parc, Montreal,QC.
Advance ticket purchase at: www.lavitrine.com
or at:
-145 St.Catherine W. PRIAPE
-1311 St.Catherine E.
-EM Cafe – Mile End 5718 Ave Du Parc.
If you would prefer to send your donation directly to Refuge RR for Horses we will make  your reservation for you.  Thank you and hope to see you there !
Refuge RR for Horses
www.facebook.com/pages/RR-Horse-Refuge/109678115761821"
http://www.youtube.com/watch?v=VOEMN9MUYeE
The Canadian H.E.A.R.T (HorsE and Animal Rescue Team)
thecanadianh.e.a.r.t@hotmail.com
http://www.facebook.com/pages/Canadian-HEART/166122676732127