The following is a courtesy listing .  MDB has no further information on this dog, other than what was given to us.  Please refer to the contact info below for more:
Maltilda is 2 years old (born Dec 18, 2009) – a gorgeous rotty/mastiff mix.  Great with cats, people, kids (lives with a 3 and 13 year old).  Her owners love her dearly but can no longer care for her financially and are moving to a place that does not allow dogs.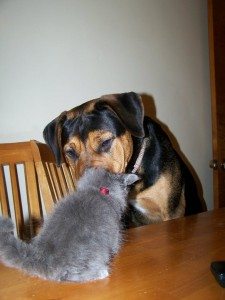 Matilda's new owner will need to give her a little extra training when it comes to pulling/barking on lead and some separation anxiety.  The current owner admits to not having looked into training methods for these common problems (there are many training options available for such issues – it just takes time and consistency. Please see our trainer's advice on separation anxiety and leash issues).
According to her owner, she is not fixed – and has had all of her shots.
If interested in this sweet girl or to get more information, please contact:
(until Tuesday March 15th):  514 439 2086
otherwise:  514 662 4157 or  514 363 3719.
e-mail Danny:  dvitale30@hotmail.com