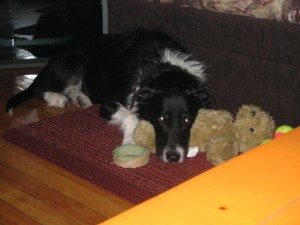 In the spirit of de-cluttering, I decided last summer to go through all of my stuffed animals I had collected over the years.  There were some (a lot) back in New Brunswick and I even had some here…some from old boyfriends, some from family and friends, some from want-to-be boyfriends, and some that were gleefully won at Disney-world and La Ronde.  It was fun to go through them and to think about all of the memories.  But it was time to put a strategy in place–my thoughts centered around the idea of recycling and/or reusing every stuffed animal.
So, my strategy started at home.  My pug collection had always been dear to my heart so Wayne went off to IKEA and bought a multi-tiered book-case-of-sorts so I could carefully place my 75+ Pugs of all shapes and sizes.
The second option was to go through and decide on how some needy children could benefit from my stuffed babies.  I went about sorting and picking out all of the teddies that I could make a child's day and then made my trek off to both St. Justine's and the Montreal Children's. I made all of the arrangements beforehand (had done this before as a fundraiser at Concordia) and felt absolutely thrilled that three big garbage bags would transport bags full of love and tenderness.  Imagine all that "hug" therapy!
Then, I went through the left-over stuffed animals. I sorted the rest with careful consideration.  Those with no loose parts, went into a pile.  I remember when I got Bailey, a rescue, and he carried along this little stuffed animal…to this day, even at 11 years old, his babies act as a comfort and he treats them with so much love..the only requirements..he loves the stuffed babies with large furry noses:)  When Bailey is agitated, he immediately goes to find his baby!
So, I put many of my old stuffed animals aside and donated them to the SPCA and SPCA Monteregie….it is a fact that a stuffed animal can give a shelter dog an increased sense of comfort while they are unfortunately in a cage most of the day. The sights, sounds, and smells of a shelter can quickly send dogs into despair and researchers found that levels of the stress can be almost 3x as high in shelter animals-so a little bit of comfort can go a long way!
In additon, I also found out that toys can be very good and practical for another reason: they help animals get adopted! In fact, it helps in their presentation to shelter visitors.  A study conducted in a shelter in Northern Ireland provided evidence that potential adopters are much more likely to choose dogs with toys than dogs with no toys ("The Behaviour of Dogs in a Rescue Shelter," Animal Welfare, D. Wells and P.G. Hepper).
So, you can imagine the # of stuffed animals I had.  Mom planned on keeping them a long time since they reminded her of my childhood..sorry Ma…pictures can do the same thing! It was time to pay it forward!
So, after giving a lot of the stuffed babies away to needy children and needy doggies, and a really big stuffed Lobster to my friend Jennifer, I still had some left.  Some that were no longer in good enough condition to re-use.  So, I wondered what I could do..and after some research, found out that all that stuffing would be very handy and could come into some very good use. It was time to put my creative side into action! 
I noticed Bailey's bed, after much use, had lost it's fluffiness and support.  I decided to fill it with the stuffing from the stuffed animals that I could no longer pay forward..I  added some cedar chips to the stuffing (a natural way to repel fleas, and helps to take away some of that doggie smell).  If you are starting from scratch you can use a twin size bed cover, kid's sleeping bag, or a pillow case (for the small wee ones) and simply sew it together. Many pillow cases already come with a sturdy zipper.  For big boys, like Bailey, it is hard to get a big bed to meet his needs but he is quite happy with the cozy one he has now:)
Last fall, my neighbor, had a "Free" garage sale and put a whole bunch of stuffed animals out on the lawn.  He was in the process of de-cluttering his daughter' things. He told me that whatever was not picked up, would simply go in the garbage bin the next morning.  The next morning, I went out and got there before the garbage truck and did the same thing as I had done with my stuffed animals.  With the extra stuffing, I made a bed for Kallua; my parents' dog back in Jacquet River…we are expected to deliver it in May…can't wait! 
There is a cool site called make-and-build-dog-stuff.com that will help you to make things for your furry babies from stuff you may have hanging around your house. 
Please think twice, before getting rid of those stuffed animals..they could make a big difference in the lives of some very special children and some very special doggies!