The following is a courtesy listing for a private individual.  MDB has no further information.  Please contact the e-mail address below for more.  Recently, the Montreal Dog Blog mailbag received an e-mail from Montrealer Louise Makovsky:
One night, I dreamed of a pitbull -who only trusted me and communicated to me that she was being forced to do things she didn't want to do. I was protecting her from some shady young guys who didn't have her best interests in mind.  I looked at her and thought 'Okay, I will take you away'. I slipped a collar on her and she followed me. I woke up right after. I checked my e-mails and there was a message from my friend –  asking me to help place a dog – a pitbull.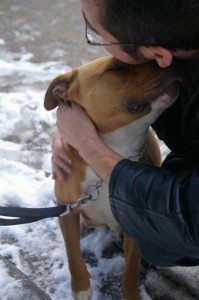 This pitbull was brought to Louise in November, underweight – and a surprise to everyone because of her physical appearance – pregnant.  Her babies were born a mere 5 days later.  The mother was sick and weak.  But they all made it through.
From Louise: They all have a connection to a tribal name. I want to send them out into the world with Hope and Love and help promote the love of animals and of dogs that are banned. Thier mom is a pitbull, their dad is who knows what.  A loose dog. (Mastiff, Husky, Akita, another Pit mix, Lab, boxer?). I have brought them up in a loving and caring structured environment and will do everything to make sure they are in safe non-violent homes as pets.  I ask of them to be ambassadors for all pit and pit mixes – and for all Native people that do everything to make a difference regarding animal safety and treatment.  Teach people about peace and respect.  That is my dream…. They are my helpers in the message.  Let us be better to each other and live with true love as much as we can.
There are 6 puppies, 1 boy and 5 girls and the mother left for adoption. They know their names and have already started with training so will be easy dogs for people that have trained before.  I am looking for loving, responsible  homes.  They have their first shot and have been dewormed. Highly socialized with humans and play very well together.  If you would like to know more please message me.
Contact: Louise Makovsky:  sweetloulou14@hotmail.com or search for her on Facebook.