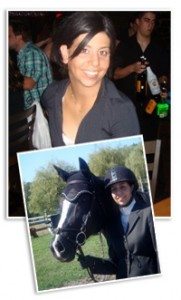 Michelle Lobaton is a vet tech at Pierrefonds Animal Hospital on the West Island.  She has helped 100's of animals in their plights , including 3 of my own rescued dogs. Her love of horses has no bounds.
Michelle is ill. Very ill. I want you to take the time and read her story in her own words below,  and if you can help please do.
Then please read about the "COME TOGETHER "dinner for her this  month.
Michelle Lobaton
http://www.michellessitetofight.com/
"We cannot control all things sent our way in life, but we can choose how we respond to it"
Anonymous
Please help me make a difference…
To anyone who has ever had or known another person with cancer it is automatic to know that its horrible, it flat out sucks! I am 26 years old and have joined the war of millions in the fight against cancer.
On my 24th birthday I was diagnosed with a very rare form of cancer, an angiosarcoma. An angiosarcoma is a cancer of the blood vessels and is a very aggressive and rare form of cancer that can grow anywhere in my body and in any tissue. To give an idea of its rarity there are only a handful of published cases, so there is very little information provided on proper protocol against this disease.
Since April of 2008, I have undergone 31 treatments of chemotherapy and 3 Major surgeries. I have received 6 different agents of chemotherapy that all have a common effect, they eliminate cancer cells from the body. Ideally this sounds like a miracle, however it is not. The effects of the procedures and treatments done on my body have not only been detrimental to my healing, they have been life changing. I am no longer capable of having my own children as my reproductive system has been removed, I have lost my hair for the 3rd time in my life, my immune system is compromised after every treatment where a simple cold can become life threatening and eating a simple meal can be a challenge as the nausea is debilitating.
In August 2009 I received news that no person should ever hear, I was given 6 months to live with chemotherapy treatments. It has now been over a year later and I am doing very well. A huge part to my ongoing recovery began when I started a natural regime over a year ago. This regime consists of natural medications and vitamins that all target the immune system and major organs in the body that are all affected and diminished in capacity due to chemotherapy. What better way to fight cancer then with the chemotherapy medications as well as a strong body and immune system. When you have a life threatening disease such as myself you need everything fighting in your favour. Since I began this natural regime the side effects from the chemotherapy have been minimal and my recovery has been much faster. the tumour has shrunk significantly, the doctors have called me a medical miracle. The cancer is not letting up though and has yet to be completely eradicated.
This is where I ask anyone and everyone for help. As the treatments are ongoing until scans prove my cancer is clear from my body I will be raising funds to help pay for this life saving natural medicine that is unfortunately not covered by the government. Please help me make a difference in my life.
I will NOT back down, I will NOT give up, I AM a fighter, and I AM a survivor!

Thank you for all your support!
.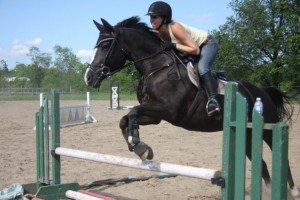 …….
"Come Together"

Fundraiser in Support of Michelle Lobaton
Saint-Lazare (Quebec) is known for its way of living, its community spirit and of course its love of horses. The area has one of the largest horse populations (over 3,500 horses) and, with the hundreds of large and small farms in its various equestrian zones; Ville de Saint-Lazare is truly one-of-a-kind. One of the best things about living and riding in a small community is that everyone at some point crosses paths and knows your name. There is a good-natured competitive spirit among its riders and coaches. But one thing is for certain whatever your discipline, everyone is equal when it comes to working together for a good cause.
Last year we gathered in support of Michelle for "Pasta For A Cure" and with your generous support we managed to raise over $3,000 to help her with her treatment regime that helps both her immune system along with the chemo to help kill the cancer cells. Due to outside sources of these meds, it has become overwhelmingly expensive due to the fact not all medicines are covered by Medicare.
Michelle was diagnosed on her 24th Birthday with a very rare form of Cancer: Angiosarcoma. Only (5) cases of literature were found on this type of cancer in Canada due to its rarity. Recently she has just finished her third round of chemotherapy, which has had a huge adverse effect on other systems including her immune system, which is key for her in her continuing fight against this devastating cancer.
So on Monday April 11th 2011, we are asking you once again to join us for the "Come Together" fundraiser in honor of Michelle and her desire to fight this Cancer and hopefully make a difference in her life.
The fundraiser will be held this year at Ristorante Il Tesoro, 1914 Ch. Ste-Angelique, 450.455.9111 starting at 7pm. Tickets will be $50 per person, which includes a 3-course meal, plus dessert and coffee, plus (2) raffle tickets. And don't forget to Bring Your Own Wine!
http://www.facebook.com/?sk=messages#!/event.php?eid=187709537937144
For more information on tickets, gift donations or how to help, contact Nancy Kuzniak at
514. 242.2672 or email snakfamily@sympatico.ca