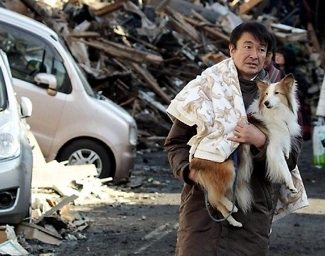 Please, find it in your heart to give what you can to help Japan through this tragic moment. It is sad to see how the world of a person crumbles in front of their eyes and nothing can be done to prevent the destruction. Not only have they lost all that they have worked for, but they also lost the irreplaceable: family members and pets.
What would you do if something devastating would happen here? I truly would not be able to keep it together if something were to happen to Nanners and Sheena due to something I would not be able to prevent. I lived in Mexico City and I survived the Earthquake of 1985 of 8.1 magnitude. I was only five and getting ready to go to school…I will never forget that day and that year. The terror of the unexpected and seeing everything shaking… is the worst experience that you can have in your life.
I pray for the people and for the animals. Many have lost their little fur friends and are in desperate need of help. There are also animals that have lost their home and are wandering aimlessly trying to find their human friend and that special place where they use to lay and rest.
Please remember " Kindness, like a boomerang, always returns."
 
I will provide some links and information where you can provide help.
Animal Refuge Kansai: Appeal for Help for the Animals made Homeless by the Earthquake and Tsunami
[youtube]http://www.youtube.com/watch?v=d28k9BqgGjo&feature=related[/youtube]