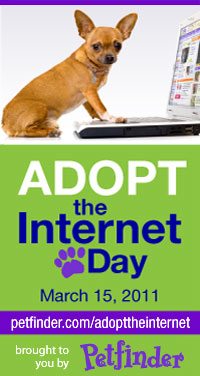 Happy 15th Birthday to PETFINDER!
What It's All About
In honor of Petfinder's 15th birthday, Montreal Dog Blog and Petfinder is asking people everywhere to pledge to spread the word online about adoptable pets today, March 15, 2011.
Petfinder is a website designed to help people find the perfect pet for their home. The site allows users to search for and learn about pets as well as place ads for pets they have that need a home.
History
Petfinder was created in 1995 as an easy way for people to look for new pets. As of February 2010, the site has been responsible for more than 13 million adoptions.
Function
Petfinder allows users to search for pets based on a number of criteria. Users can search for a particular type of animal and further narrow that search down by breed, age, size, gender and location.
Benefits
Petfinder works with 12,500 different animal shelters as well as individual animal owners, allowing for an exceptionally large database of animals. More animals means it is easier to find the exact right animal for you or your families needs.
Types
Petfinder carries listings for a variety of animals, including dogs, cats, birds, horses, pigs, rabbits, reptiles, barnyard animals and small and furry companions.
Potential
Petfinder is updated daily with new animals, making it possible to constantly have a new selection of animals available. The website also offers a great deal of animal information, so you can learn about a particular animal or breed before you adopt.
Rescues you can find on Petfinder:
| | | | |
| --- | --- | --- | --- |
| Tiny Paws Dog Rescue Canada – Quebec Chapter | | Montreal, QC | 613-225-2288 |
| Humanochat | | Montreal, QC | |
| Moustache | | Montreal, QC | (514) 254-4926 |
| Secours Golden Retriever Rescue Quebec | | Montreal, QC | |
| Sophie's Dog Adoption | | Montreal, QC | (514) 523-5052 |
| Animal Rescue Network / Rseau Secours Animal | | Montreal, QC | please e-mail |
| Hopital Veterinaire LaSalle | | LaSalle, QC | 514-365-6880 |
| Animal Adoption Montreal | | Montreal, QC | E-mail only |
| PAWS FOR LIFE RESCUE | | Montreal, QC | |
| Reach For The Stars Rescue | | Montreal, QC | |
| Gerdy's Rescues & Adoptions | | Montreal, QC | Pager: 514-203-9180 |
| Steri-Animal | | Ville St Laurent, QC | (514) 938-6150 |
| SPCA Canadienne | | Montreal, QC | 514-735-2711 x2250 |
| Refuge pour chats de Verdun | | Verdun, QC | 514-761-4444 |
| PetitsPawz Cat Refuge of Montreal | | Verdun, QC | 514-575-5627 |
| SPCA Monteregie | | Sainte-Angele-de-Monnoir, QC | |
| Quebec Rabbit Rescue / Secours Lapins Quebec | | Montreal, QC | |
| Kitty Rescue | | Dollard Des Ormeaux, QC | Please email |
| Services Animaliers A.M.R. | | St-Constant, QC | 450-638-9698 |
| Rosie Animal Adoption | | Kirkland, QC | |
| Pierrefonds Animal Hospital | | Ste-Genevieve, QC | 514-626-9890 |
| Refuge Saint-Chatques | | St-Jacques, QC | 514-777-1175 |
| Le Refuge | | St-Hyacinthe, QC | 450 773 8521 ext 8550 |
| Sasha's Den Rescue / Le repaire de Sasha | | Rawdon, QC | Please email |
| Societe pour animaux Saint-Martin de Pores | | Rawdon, QC | |
| | | | |
| --- | --- | --- | --- |
| Tiny Paws Dog Rescue Canada – Quebec Chapter | | Montreal, QC | 613-225-2288 |
| Humanochat | | Montreal, QC | |
| Moustache | | Montreal, QC | (514) 254-4926 |
| Secours Golden Retriever Rescue Quebec | | Montreal, QC | |
| Sophie's Dog Adoption | | Montreal, QC | (514) 523-5052 |
| Animal Rescue Network / Rseau Secours Animal | | Montreal, QC | please e-mail |
| Hopital Veterinaire LaSalle | | LaSalle, QC | 514-365-6880 |
| Animal Adoption Montreal | | Montreal, QC | E-mail only |
| PAWS FOR LIFE RESCUE | | Montreal, QC | |
| Reach For The Stars Rescue | | Montreal, QC | |
| Gerdy's Rescues & Adoptions | | Montreal, QC | Pager: 514-203-9180 |
| Steri-Animal | | Ville St Laurent, QC | (514) 938-6150 |
| SPCA Canadienne | | Montreal, QC | 514-735-2711 x2250 |
| Refuge pour chats de Verdun | | Verdun, QC | 514-761-4444 |
| PetitsPawz Cat Refuge of Montreal | | Verdun, QC | 514-575-5627 |
| SPCA Monteregie | | Sainte-Angele-de-Monnoir, QC | |
| Quebec Rabbit Rescue / Secours Lapins Quebec | | Montreal, QC | |
| Kitty Rescue | | Dollard Des Ormeaux, QC | Please email |
| Services Animaliers A.M.R. | | St-Constant, QC | 450-638-9698 |
| Rosie Animal Adoption | | Kirkland, QC | |
| Pierrefonds Animal Hospital | | Ste-Genevieve, QC | 514-626-9890 |
| Refuge Saint-Chatques | | St-Jacques, QC | 514-777-1175 |
| Le Refuge | | St-Hyacinthe, QC | 450 773 8521 ext 8550 |
| Sasha's Den Rescue / Le repaire de Sasha | | Rawdon, QC | Please email |
| Societe pour animaux Saint-Martin de Pores | | Rawdon, QC | |
| Animatch | | Ile Perrot, QC | 450.452.0321 |
| Eleven Eleven Animal Rescue | | Montreal, QC | Please Send an Email |
| Boxer Rescue of Quebec | | Ste-Martine, QC | please contact via email |
| Hudson Veterinary Hospital | | Hudson, QC | 450-458-5382 |
| Refuge les ChAmours | | Lanaudire, QC | 450-883-6191 |
| Fondation Caramel | | Saint-Valrien de Milton, QC | 450-549-2935 |
| Kiko Dog Rescue and Adoptions | | Rigaud, QC | |
| CASCA | | Vaudreuil-Dorion, QC | |
| La Pension du Jardin Secret | | St-Alphonse Rodriguez, QC | (450) 883-3011 |
| SPCA Laurentides-Labelle | | Ste-Agathe-des-Monts, QC | (819) 326-4059 |
[youtube]http://www.youtube.com/watch?v=MUCkPbPR4IM[/youtube]