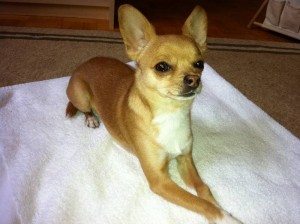 Nat received an email with a plea to help Andrea find a little Hustler that is lost walking out and about in the city of Laval or may have been dognapped.  His Human friend Andrea provides the following:
I'M ASKING FOR YOUR HELP! PLEASE. I lost my 2 year old male chihuahua Saturday March 12, 2011 around 7pm.
He was lost in Chomedey, Laval, near 100th avenue, St-Martin, Louis Payette, Favreau…(Maybe could have gone further)
I believe someone saw him, took him and decided to keep him because I posted signs everywhere (over a hundred copies) on streets & online, called SPCA to vets to anywhere i can think of and no one has claimed him FOUND.
Unfortunately I'M ONE PERSON and can't go up posting signs in West Island, DDO, Montreal, Ste-Dorothe ETC.
This is where you guys can help. We all have friends everywhere around the city. THIS IS MY ONLY CHANCE FINDING HIM PLEASE HELP ME!!!!
There's REWARD OF A 1000$ to who ever finds my dog!!!!
Description : All beige Chihuahua with a white stomach, 4 white paws and a white tip tail 
Area Lost in: St-Martin, 100th Avenue, Louis Payette, Favreau, (Those are the nearest areas) in Laval.
REWARD: $1,000.00
Please if you have any information on Hustler please contact Andrea at: andrea.atiyeh@hotmail.com  or call: 514-581-230