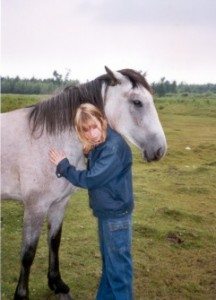 It is truly amazing what goes on within a few miles us that most people have never heard of.
Rose Gergely is a native Montrealer who moved to the countryside in order to follow her passion and dedicate her life to saving animals.
I first learned of Rose's work while I was rescuing dogs many years ago . Who knew ?
 Please read her story and become an active part of our growing community of compassionate animal lovers here in Montreal , and just over the Ontario Border.
 When I grow up, I wanna be her…
Rose Gergley
Where do you live  and who lives with you ?
Alexandria Ontario. I live with my husband and two kids.  Animals  – we have about 400 residing on this property…..Horses, cows, sheep, pigs, dogs, cats, rabbits, guinea pigs, birds, geese ,chickens ,ducks, pigeons, peacocks, domestic birds and a turtle 🙂
When did you first realize you wanted to be involved with animals?
I think it was more like since I discovered who animals were that I felt very connected to them. I suppose there were two moments in my life that I realized that animals needed help. At 11 years old I discovered about the Canadian seal hunt. I was so disgusted that people could do that to innocent beings so I wrote a letter to IFAW and I helped raise awareness by leafleting door to door.  At the same age I realized that the food we eat are actually animals. When you're young you don't necessarily realize that your meat was actually an animal that was breathing, thinking, and living. So I stopped eating meat…I took a good look at how we treated the animals on our planet and knew that I had to do something to help them. There has never been anything else I wanted to do.
What was your first experience working with animals…?
Since I was young I always helped animals, whether it was an injured bird or a stray cat. However the only paying job I ever had working with animals was as a veterinary technician.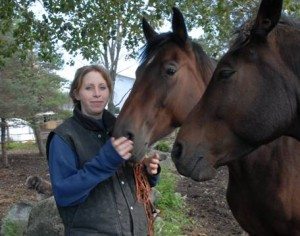 How did RR Refuge for Horses come to be?   
I bought my own horse at 13 years old and she was boarded in a riding facility. At that age I knew I was obligated to care for her for her lifetime. However I soon realized that most people did not feel the same way about the horses they were using for pleasure, sport and making money…I would see a person with a horse and the next year it was gone and replaced with a new one. It made me wonder where they went. I soon discovered that they were sold or sent to slaughter, discarded to make room for a better riding machine. These people gave no respect to the animals that worked so hard for them. When I moved to my own property in the country, I started to get calls of abandoned animals. I rescued a newborn lamb that needed to be bottle fed as the owner did not want to take the time to help him as it was not profitable. Then I received a call from the stable I boarded my horse at and they said they had an old school horse that needed a home. They did not trust anyone else as they knew I still had my horse I bought when I was 13. Immediately I said yes.
Then that snowballed into many calls for help .Horses from racetracks, starving , frozen and abandoned animals of all kinds, After a few years we finally got incorporated with a charity tax number( since 1990)  We have helped all animals in need ever since.
Right now our biggest need is funding. Without financial support we cannot continue to help animals that are suffering at the hands of people in our communities. We are dreaming of purchasing a larger facility so we may be an example to the rest of Canada that our nation can learn and be compassionate However, unless we find supporters to help us just with our daily responsibilities let alone trying to fund a new facility, it will be impossible to continue at this high level of Rescue. I know we are one of, if not the largest horse and animal rescue in Canada, and we do compare with some of the largest in the USA. The only difference is they receive funding while we scramble for donations, use lots of credit, barter and recycle all we can to make this work
And you always lend a hand to other rescues as well..
We help any animal in need. Domestic, Equine, farm, and wild animals .We have always rescued all animals and now have a new non profit charity (along with RR) to help educate and hopefully save more animals. It is called the Canadian H.E.A.R.T (Horse and Animal Rescue Team). www.canadianheart.org (the website was just created and will be finished shortly)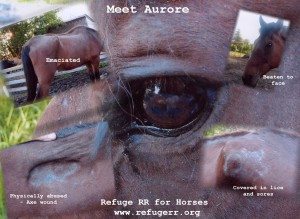 We have a small horse that we rescued named AURORE. She is the sweetest being on the planet. However her previous owner did not think so .In fact he tried to kill her by fracturing her skull, knocking out her teeth and putting an axe through her neck…She was still alive after all that so he just decided to starve her. Luckily she was rescued .When we first got her home it was like her brain was dead in a body that still had a heart pumping…It took months of care but she is now happy and healthy. She has regained all her weight and she is trusting of us. However I cannot imagine what her memories are, for the rest of her life she will be loved and cared for and protected from harm.
 Can you help out Refuge RR?  Please visit the following sites and the two upcoming fundraisers.
A little means a whole lot to this rescue.
Refuge RR for Horses
April Events
Village Scene Productions presents the play

"Equus"

by the

Tony Award winning playwright Peter Shaffer

. Yes this is the same play that was re-popularized in London's West End and on Broadway by non other than the famous

Harry Potter's "Daniel Radcliff"
The event itself, is on Saturday, April 16th. Tickets are available now. 50$ includes, at 7pm welcome cocktail event*, coat check, special pre-selected seating, the play at 8 pm, a meet and greet talk back post play session with the cast, a performance by every one's favorite band Soul Fusion at 11 pm. 50% of the ticket price goes from the patrons to

Refuge RR for Horses

  and you will receive a $25 . tax receipt.
More than ever  

Refuge RR for Horses

needs your help. We have taken in so many animals that have been brutally abused by people that it is taking a toll on us financially. Without your help we can no longer help horses like "Keithman" who had his skull fractured by his owner, or "Aurore" who' s owner tried to kill her by fracturing her skull,knocking out her teeth , putting an axe through her neck and then finally trying to starving her. The list of those who have suffered goes on and on but with your help we can stop the suffering.
So Join us at this amazing once in a lifetime fundraising event ……….
Reserve Now as tickets are limited…
When

–  Saturday ,April 16 , 2011. At 7:00 pm
Where

–  The famous Rialto Theatre , 5723 Ave du Parc, Montreal,QC.
-145 St.Catherine W. PRIAPE,
-EM Cafe – Mile End 5718 Ave Du Parc.
If you would prefer to send your donation directly to Refuge RR for Horses we will make  your reservation for you.
thank you and hope to see you there !
Norm and Donna from Hudson will be hosting a fundraiser evening for Refuge RR . It will be held at the Hudson community centre on Saturday April 02 , 6:00 PM . They promise an evening of excitement and fun with live entertainment , food will be available for purchase on site . Remember to B.Y.O.B. and tickets will be $ 10.00 at the door. So please bring your friends and come and have a great time with us , we need your support.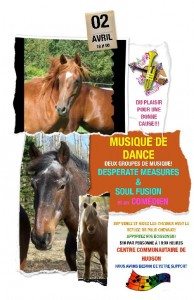 TPK ‎    "In rescuing animals, I lost my mind, but found my soul." ~anonymous