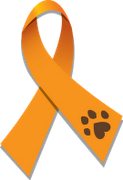 April is Prevention of Cruelty to Animals Month. Each year, the ASPCA urges supporters across the country to support their efforts and Go Orange for Animals in honor of the signing of the ASPCA's charter in 1866. In 2011, they celebrate 145 years of fighting against animal cruelty.
It should be an effort by animal rescues and local animal groups to bring awareness to our community about the abuse animals have to endure. We've had several high profile animal cruelty cases in the past few months, yet we have had no answer for those cases. It is our responsibility to educate others of our lack of animal cruelty laws and in some way prosecute those that are animal abusers.
What can we do? Promote animal adoption! Applaud the great people that saved the life of an animal through adoption or being a foster for an animal in need! Let us be grateful for the great people that do rescues and that give their heart and soul to be a saving Angel to so many abandoned and neglected animals in Quebec. Please, sign petitions and give your voice to the innocent animals. Don't overlook kill shelters! The animals have no fault for ending up at a kill shelter. As a society we have failed them and they pay the price for our irresponsible behavior. One more thing…please don't be the person that turned his or her head when an animal needed help just because you thought someone else would help. You could be the only person to provide help to a fur-friend in need.
[youtube]http://www.youtube.com/watch?v=xJMLx2YSTQc[/youtube]